CRESTVIEW, Fla. –– Okaloosa County educator Susan Geering has been named assistant principal of Antioch Elementary School in Crestview, the school where she began her teaching career.

The Okaloosa County School Board approved her appointment on May 23.
During her 13 years teaching at Antioch, Geering served in many teacher-leadership roles and district committees. In 2016, she was honored to be selected by her peers as Antioch's Teacher of the Year.
She has served as an assistant principal at Bluewater Elementary and Shoal River Middle School and was named Okaloosa's first Elementary Assistant Principal of the Year in 2021.

A product of the Okaloosa County schools, Geering, attended Baker School and is a graduate of Crestview High School. She earned both an undergraduate degree in teaching Special Education, grades K-12, and an Educational Leadership master's degree from the University of West Florida.
Geering's daughters, Paige, Colleen, and Riley, are students in Okaloosa County schools. Her husband, Chet, is a teacher at Fort Walton Beach High School.
Geering comes from a family of educators. Her parents, Chuck and Ann Sprague–and grandparents–served the school system in various capacities.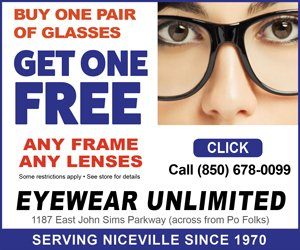 She said that she is thankful for the unending support that she has received from friends and family.
As Antioch's new assistant principal, Geering said she is excited and appreciative to have the opportunity to serve the students, faculty and staff, and families at Antioch Elementary School with positivity, enthusiasm, and gratitude.