NICEVILLE, Fla. – Now is the time to celebrate those who have made Niceville a better place to live. The Niceville Valparaiso Chamber of Commerce is seeking nominations for inductees into its Niceville Valparaiso Civic Hall of Fame.

The Civic Hall of Fame, established in 2016, honors and recognizes the individuals who have made broad and lasting contributions to the betterment of the Niceville Valparaiso community.
According to the chamber, nominations are judged on the nominee's impact and influence on the development and/or quality of life in the Niceville Valparaiso community.
Also considered are the nominee's leadership roles in local/state/nation organizations, civic, educational, religious, and/or service organizations including offices held and special recognition and honors (civilian or military) received.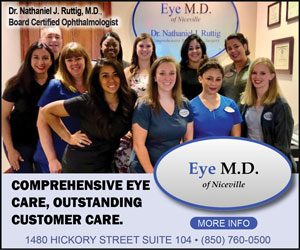 The nomination deadline for 2022 inductees is May 20, 2022
Nomination guidelines and submission forms are available online at NicevilleChamber.com.
The 2022 inductees will be announced at the Civic Hall of Fame Celebration Luncheon on Wednesday, July 20, at the Niceville Community Center.
Table Sponsorships for the event are available for $350, which includes a reserved table and lunch for eight attendees, recognition on the Chamber's newsletter, website, and on the event program in addition to table signage at the event and recognition during the program.

Niceville Valparaiso Hall of Fame inductees include Reverend Dennis J. Brown, Lannie Corbin, Jessie Alma "Granny" Edge, Lt. Gen. Gordon E. Fornell, Dr. David Goetsch, Nancy Myers Grigsby, Brigadier General USAF, Retired Donald "Don" E. Haugen, Raimund Herden, Howard J. Hill, Colonel, USAF (Retired), A.L. Johnson, Addie R. Lewis, William John Nathey, James Ellsworth Plew, Plenn Howell Phelps, Sr., C. Walter "Walt" Ruckel, Jr., Francis Walter Spence, Walker Vester Spence,  Earl C. Talbot, Sr., Ramonde "Rae" Ruckel Byrne Williams, and Mayor Randall Wise.
A summary of each inductee's accomplishments can be found on the Chamber's website.
For more information contact the Niceville Valparaiso Chamber of Commerce at 850-678-2323 or members@nicevillechamber.com.