NICEVILLE, Fla. — An award-winning author living in Niceville has launched her complete series of young adult novels after releasing its final entry this month.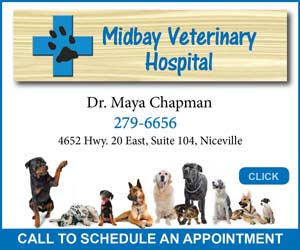 Hayley Reese Chow, a Florida Author Project winner, has announced that she has released Time's Orphan. She is now offering the complete Odriel's Heirs series, a fast-paced, young-adult fantasy adventure.
According to Chow, the Odriel's Heirs series tells the story of a world in which the powers of fire, invisibility, and healing are passed down to three heirs to protect their land from a demon necromancer and his armies of undead. Spanning decades and generations, the Odriel's Heirs series features three stand-alone novels connected by two bridge novellas to comprise a darkly epic saga across a new world both extraordinary and perilous, Chow said.
Walking in the footsteps of Sabriel, Graceling, and Avatar: The Last Airbender, Odriel's Heirs features strong female protagonists, slow-burn romance, and high-stakes fantasy in a new world of magic, monsters, and the undead where the lives of all depend on the strength of three.

" Libraries looking for world-building epic fantasy stories that center on strong females and supporting characters that exhibit equally interesting blends of power and decision-making prowess will find Odriel's Heirs well-written and hard to put down," said D. Donovan, Senior Reviewer, Midwest Book Review.
Chow is an Air Force veteran, reservist, engineer, ex-ultramarathoner, retired fencer, mother of two, and up-and-coming author, publishing seven books in the last three years. Her books have won the Florida Author Project, a Literary Titan Gold Award, and a Book Reader's Appreciation Group Medallion. Chow's books have been finalists in the Book Blogger Novel of the Year Awards and the Wishing Shelf Book Awards.
For more information, please visit hayleyreeschow.com.
To schedule a book signing or appearance, please get in touch with hayleyreesechow@gmail.com.