NICEVILLE, Fla. — Dining at The Wharf 850 in Niceville during the Holidays is extra special with its sparkling lights, Christmas trees, festive evergreen wreaths, colorful ribbons, and bows inside, and the silvery moonlight shimmering on the mirror-like surface of Boggy Bayou after dark outside.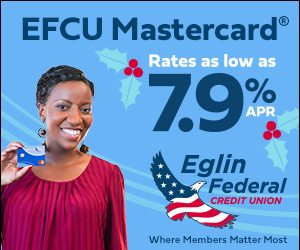 It's no wonder so many local families come together this time of the year at The Wharf to celebrate with marvelous food and good times!
The Wharf 850 has a large selection of family favorites, from fresh local seafood and delicious steaks to amazing tacos and handmade flame-fired flatbread. The portions are significant, the food is served fresh and hot, the service is excellent, and the staff is always friendly and helpful.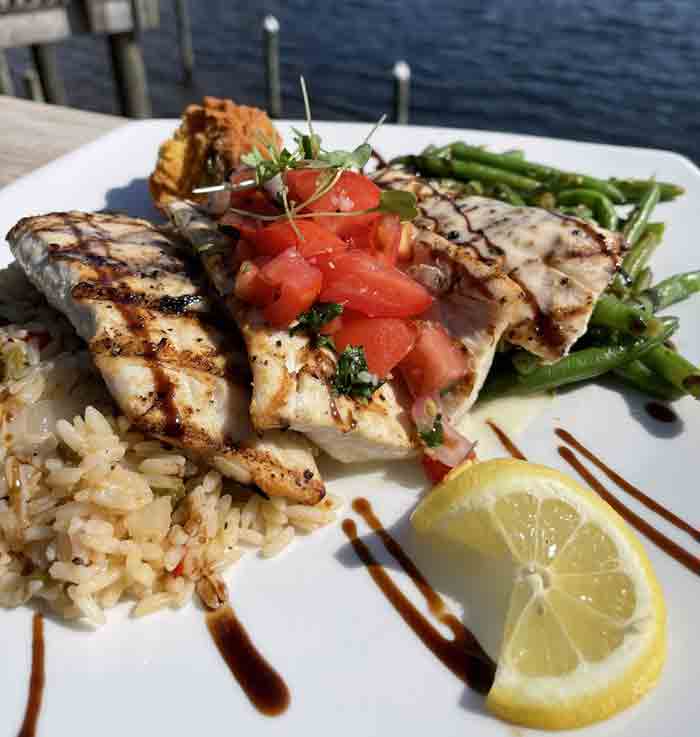 Enjoy a Holiday lunch, dinner, or the madly famous Sunday Brunch–including a not-to-miss New Year's Day Brunch– at The Wharf's iconic location that has been a gathering place in our community for two generations.
Relax overlooking Boggy Bayou while enjoying The Wharf's Holiday bottomless mimosas, available from December 26 to January 1.
Dine inside or on the Wharf's massive decks overlooking Boggy Bayou. The Wharf's heat lamps will keep you warm when it's cold outside!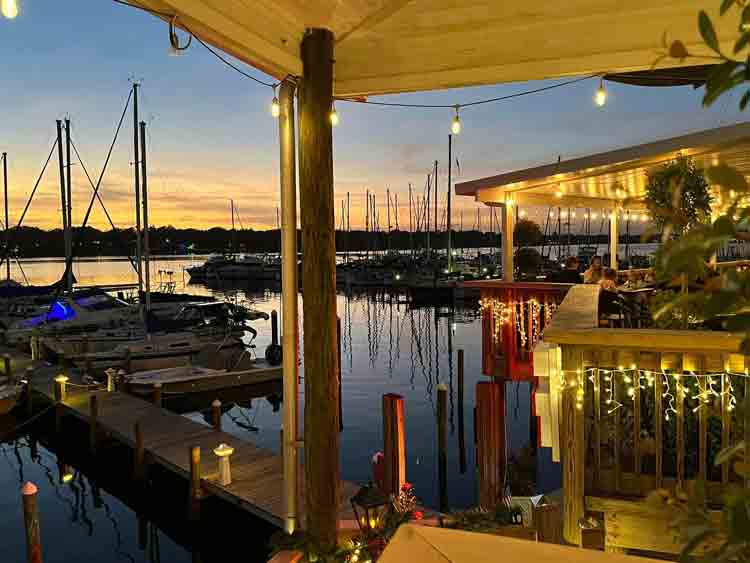 Delight in fresh gulf and bay seafood at The Wharf. The seafood fare includes such favorites as shrimp, snapper, crabcakes, snow crab, and scallops. The Oyster Bar features raw oysters, grilled oysters, and Oysters Rockefeller.
How about a mouthwatering steak that is cooked just right? Choose from a bone-in ribeye, New York strip, bacon-wrapped sirloin filet, and filet mignon. If you like your steak extra big, The Wharf's Tomahawk Experience will make your day! This flame-kissed 24-ounce, bone-in, premium choice ribeye is grilled to perfection and served with a baked potato, mac & cheese, and corn on the cob.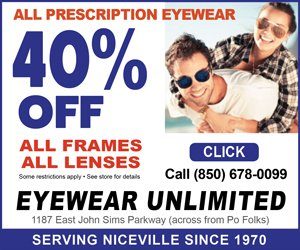 In addition to its enormous regular menu, The Wharf features scrumptious chef specials for both lunch and dinner.
Recent chef specials for dinner include Mahi Florentine, Cajun blackened grouper, prime rib, surf and turf, Boggy Bayou shrimp and lobster, sesame crusted grouper, Cajun lobster Alfredo, and broiled lobster and Cajun creole shrimp.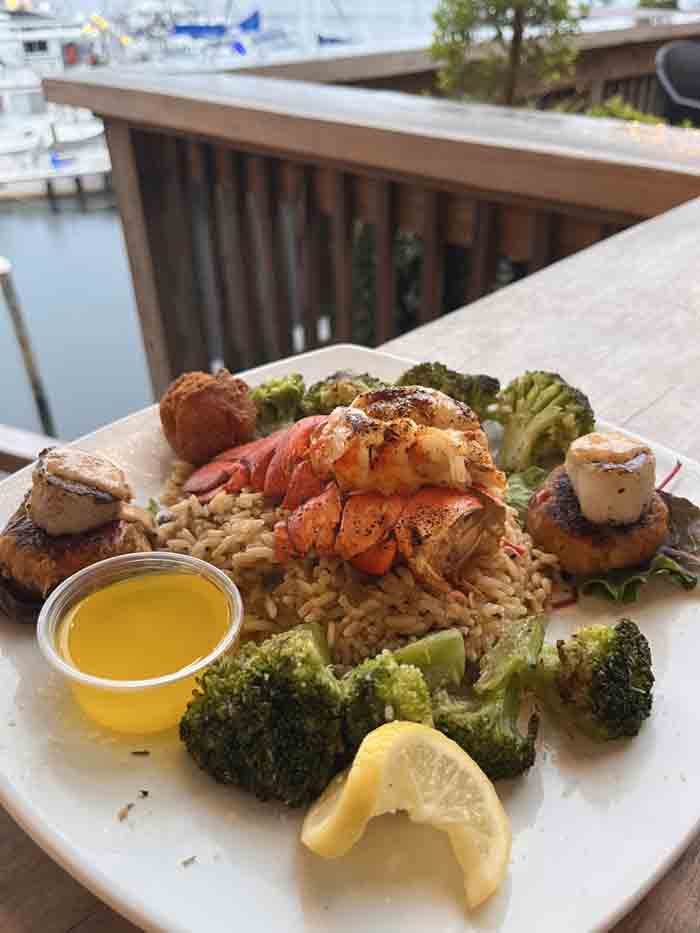 Popular weekly dinner specials such as Mahi Wednesday and Prime Rib Thursday are delicious and offer diners fantastic value.
Lunch favorites include delicious wraps, fried fish baskets, BBQ, sandwiches, and salads.
The Wharf's flatbread bar features a true 600+-degree brick oven. Pull up a chair and gaze into the dancing flame while sipping a glass of wine. Watch the chef hand-toss your flatbread and slide it into the brick oven until the dough bubbles and rises to perfection.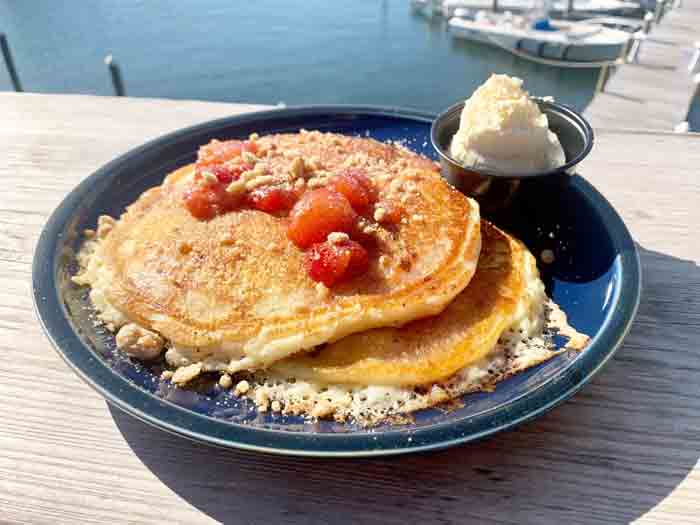 Experience the Wharf's wild and exciting Sunday Brunch on New Year's Day. What a great way to start out 2023!
The Wharf's famous Sunday Brunch regularly features such treats as prime rib and eggs, chicken and waffles, shrimp and grits, seafood baskets, bowls, platters, omelets, sandwiches, salads, tacos, and tasty brunch beverages.
Recent Sunday brunch specials include Little Nutty and a Lot Bananarama Pancakes, Pumpkin Spiced French Toast Sticks, The Yellowstone Omelet, Eat, Drink and Be Merry Pancakes, Golden Gate Tacos, and Pumpkin Pie Pancakes!
Looking for a Christmas gift or stocking stuffer that your friends and loved ones will use and greatly appreciate? Wharf 850 gift cards are sure to please! Gift cards valued at $50 or more are 10% off now through December 23.
Throughout the years, Niceville families have laughed and created fond memories at The Wharf's historic Bayshore Drive setting. Celebrate and share your good times at The Wharf 850, where you'll always be greeted with great food and family-friendly southern hospitality.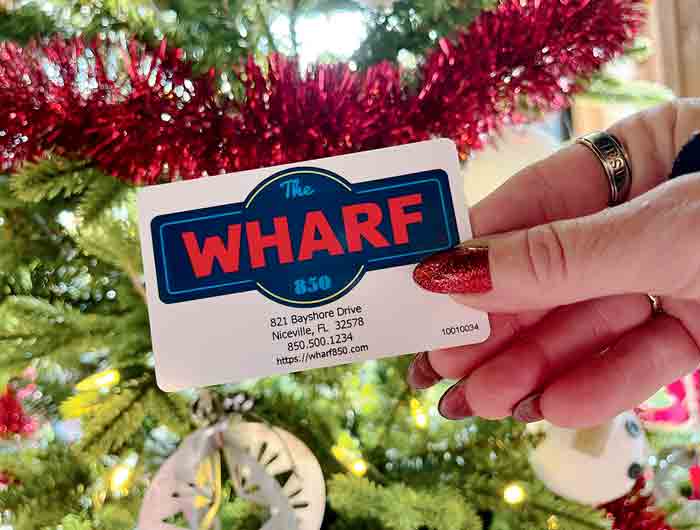 The Wharf 850 Holiday Hours
December 21-22:
10:30 a.m. to 8 p.m.
December 23:
10:30 a.m. to 9 p.m.
December 26-29:
10:30 a.m. to 8 p.m.
December 30-31:
10:30 a.m. to 9 p.m.
January 1:
10 a.m. to 8 p.m. (brunch served from 10 a.m. to 2 p.m.)
January 4-5:
10:30 a.m. to 8 p.m.
Jan. 6-7:
10:30 a.m. to 9 p.m.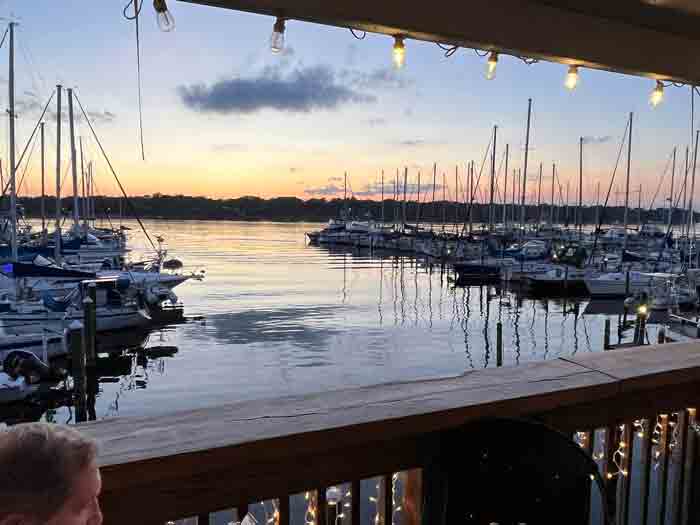 The Wharf is closed on Christmas Eve and Christmas Day, so its staff can enjoy the Holidays with their loved ones.
Call 850-500-1234 if you would like to make a reservation or order takeout.
The Wharf 850 is at 821 Bayshore Dr, Niceville, FL 32578.