PACE, Fla. — Eglin Federal Credit Union (EFCU) is coming to Pace with a new location next year, EFCU announced today.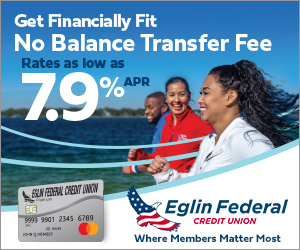 Property for the Pace location has been purchased at 4413 U.S. 90. Construction is expected to begin in a few months and be completed in 2023, EFCU said.
"We are excited to announce that the National Credit Union Administration has recently approved expanding our field of membership to include anyone who lives, works (or regularly conducts business in), worships or attends school, and businesses and other legal entities in specific geographic locations within Escambia County, Alabama as well as Escambia and Santa Rosa Counties, Florida," Eglin Federal Credit Union President/CEO Jerry Williams said.
"The new branch location in Pace was selected to add convenient and affordable products and services as well as financial wellness resources to a growing membership. We will look for opportunities to partner with local chambers and businesses to add value to their community and employees. We do more than build credit. We build community."

La Macchia Group is the design/build firm for the new Pace branch, the Operations Center, and the recently announced Freeport branch in Walton County, all expected to be completed in 2023.
The Pace branch will be the second EFCU location in Santa Rosa County. Its other location in Santa Rosa is in Navarre.
The new branch in Pace will be very similar to the Freeport branch design with approximately 4,000 square feet, two ITMs (Interactive Teller Machines) in the drive-up, and additional ITMs in the entry foyer and lobby, EFCU said.
The branch will have safe deposit boxes, Coinstar, night drop, and a member engagement area with interactive touch screen monitors.
Learn how you are Eligible to Become an EFCU Member (eglinfcu.org).