NICEVILLE, Fla. — In the spirit of celebrating excellence and leadership in our schools, Niceville.com is proud to announce Eva Claire Church as the first November Student of the Month honoree in our Teacher and Student of the Month series sponsored by Black Rifle Coffee and other leading local businesses.
Eva Claire, an impressive 8th grader, has emerged as a dynamic and impactful student leader on the Ruckel Middle School campus. According to her teachers, Eva Claire's commitment to both academics and extracurricular activities is commendable.
Not only has she been elected as the Student Government President, but Eva Claire also showcases her athleticism on the Varsity Girls Basketball team. Looking ahead, she plans to bring her talents to the softball field in the upcoming spring season.
"Eva Claire is a great representative for the student body," said RMS English teacher Jami Nespoli.
"Her leadership and love for her school are evident in her role as President of the Student Government Association."
Alongside her active participation in sports, Eva Claire is a dedicated member of the RMS Hope Squad, where she serves as a reliable and compassionate leader.
Gina Watson, Eva Claire's art teacher and mentor in the Hope Squad, said she admires Eva Claire's growth at Ruckel.
"Over the last three years, I have watched Eva Claire grow into a wonderful leader," said Ms. Watson.
"She is an active member of Hope Squad and a trusted shoulder for her peers. It's been wonderful to watch her lead with compassion!"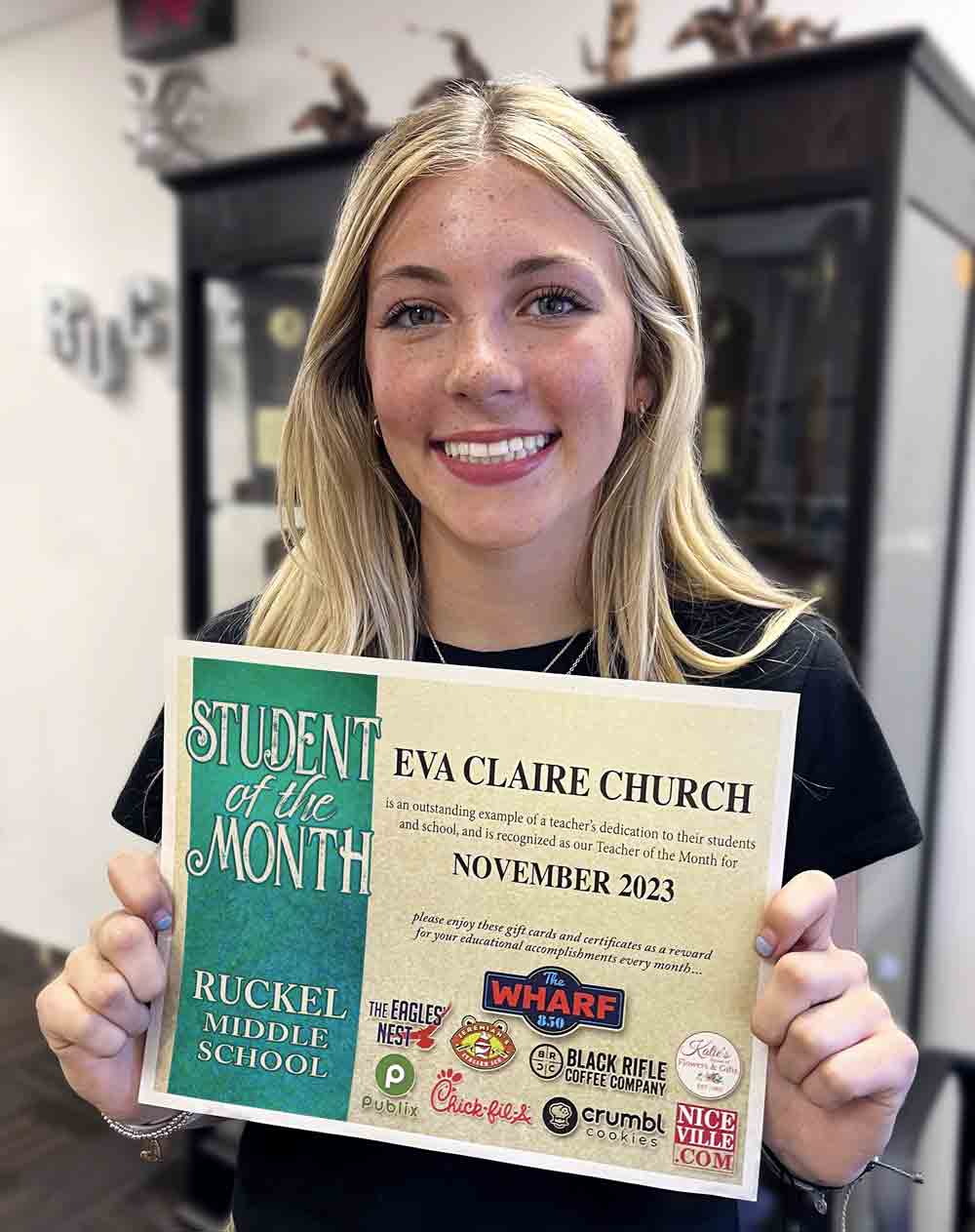 Eva Claire's favorite subject is art, reflecting her passion for creativity and self-expression. Outside of school, she enjoys a variety of activities, including travel softball, city league flag football, and her love for weightlifting and surfing.
"Eva Claire is a wonderful student, student-athlete, and young lady. She strives to serve her fellow students with a positive attitude and is an excellent example of a dedicated and involved student in class," added history teacher Ryan Patterson.
Her involvement in student government and extracurricular activities shows how much she cares about Ruckel Middle School and values representing herself, her family, and her community in a positive way.  We are very blessed to have EC as a student at RMS."
Eva Claire's achievements and dedication make her a shining example of the outstanding students at Ruckel Middle School, and we're delighted to highlight her as a Student of the Month for November. Congratulations, Eva Claire!
Prize Package
As Student of the Month, Eva Claire receives a prize package that includes a fantastic assortment of gifts, certificates, and merchandise generously provided by:
We spotlight an exceptional student or teacher of the month from a local school each week, acknowledging their remarkable achievements. Each school chooses its teacher and student of the month.