EGLIN AIR FORCE BASE, Fla. — Meet Daniel Zurek, a shining star of Eglin Elementary School who has earned the distinction of Student of the Month for his outstanding achievements and wonderful personality despite significant health challenges.
Daniel's resilience is truly admirable. Despite facing a life-threatening illness that causes such issues as seizures and mobility difficulties, he continues to pursue his education with tenacity and strength as a special needs student.
Daniel joined the Eglin Eagle community in 2021 and is currently in the 4th grade. While he excels in all subjects, his heart belongs to math. Daniel's dedication to his studies has consistently earned him a spot on the honor roll, a source of pride for his parents, Jonathan and Nichole Zurek.
Daniel is the youngest of five children, and his older siblings love to spoil him a little. His warm personality and quick smile make him the heart of their family.
"He's a good boy and works hard for everything he gets," said Nichole. "It's an honor to be his Mama."
One of Daniel's greatest joys is found between the pages of a good book. He loves reading and frequently visits the library to explore new worlds through literature.
As a military child, Daniel has the unique opportunity to meet new friends regularly. He enjoys the adventure of forming connections and hanging out with friends, making every place he goes feel like home.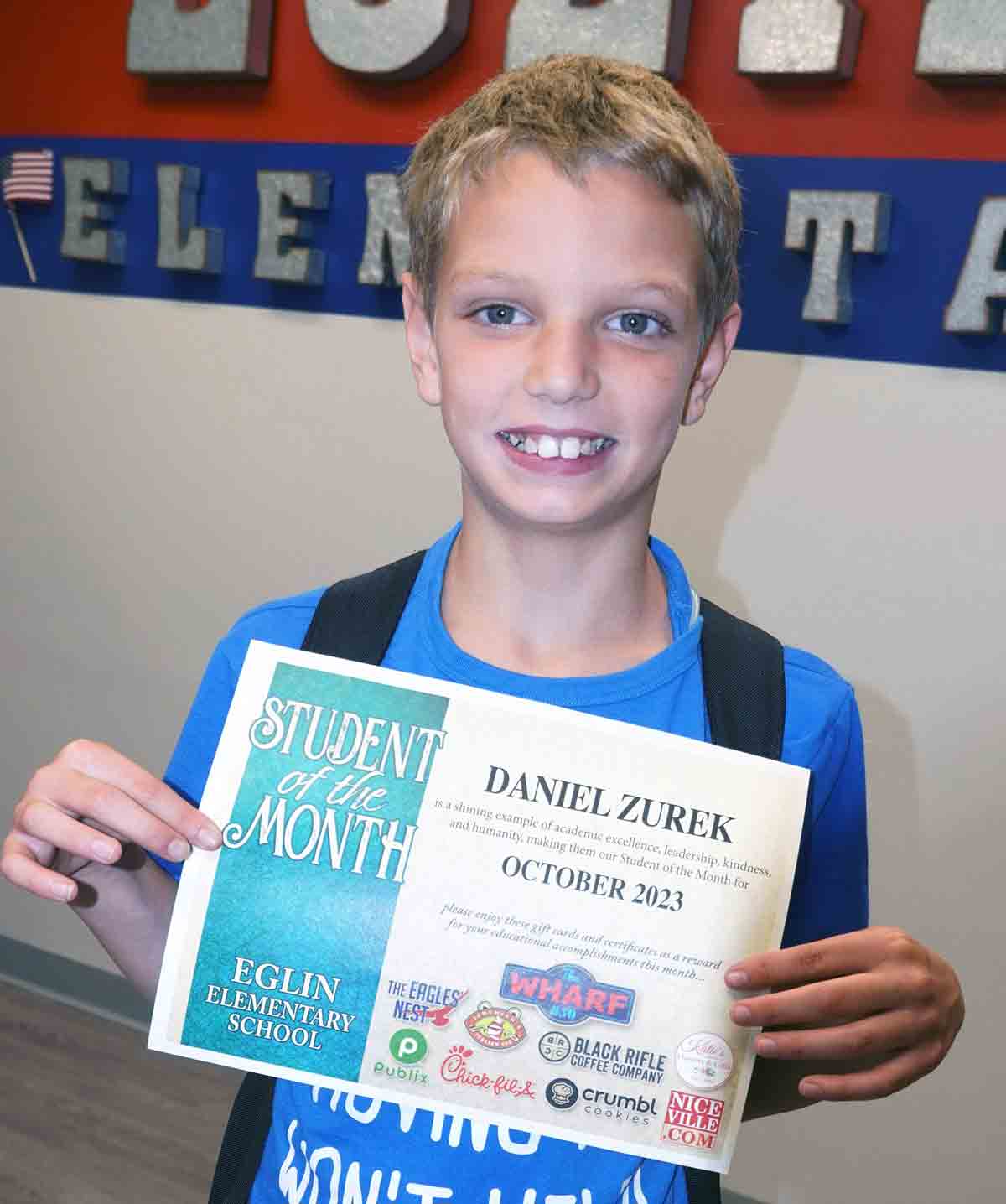 One thing that everyone will tell you about Daniel is that he's a rule-follower and always ready to be a friend to others. Though a little shy, his quick smile brightens the day of everyone around him.
"I greet Daniel every morning when he steps off the bus," said Principal Gwen Morris.
"No matter what challenge might be ahead, he's always smiling and ready to start the day!"
Outside the classroom, Daniel is proving himself a soccer enthusiast. He's in his second year of playing soccer and is making impressive strides on the field.
The Student of the Month recognition is even more special for Daniel because it's the first award he has received other than the A/B honor roll, and it holds a special place in his heart.
"It meant a lot to him," said Nichole. "He couldn't wait to get home and tell us about it."
Daniel's dedication to his studies, love for reading, and warm-hearted personality make him a well-deserving Student of the Month. His ability to overcome life's challenges and excel in his studies is a testament to his strength and determination. Congratulations, Daniel, for being an inspiration to your peers and a valuable member of the Eglin Elementary School community!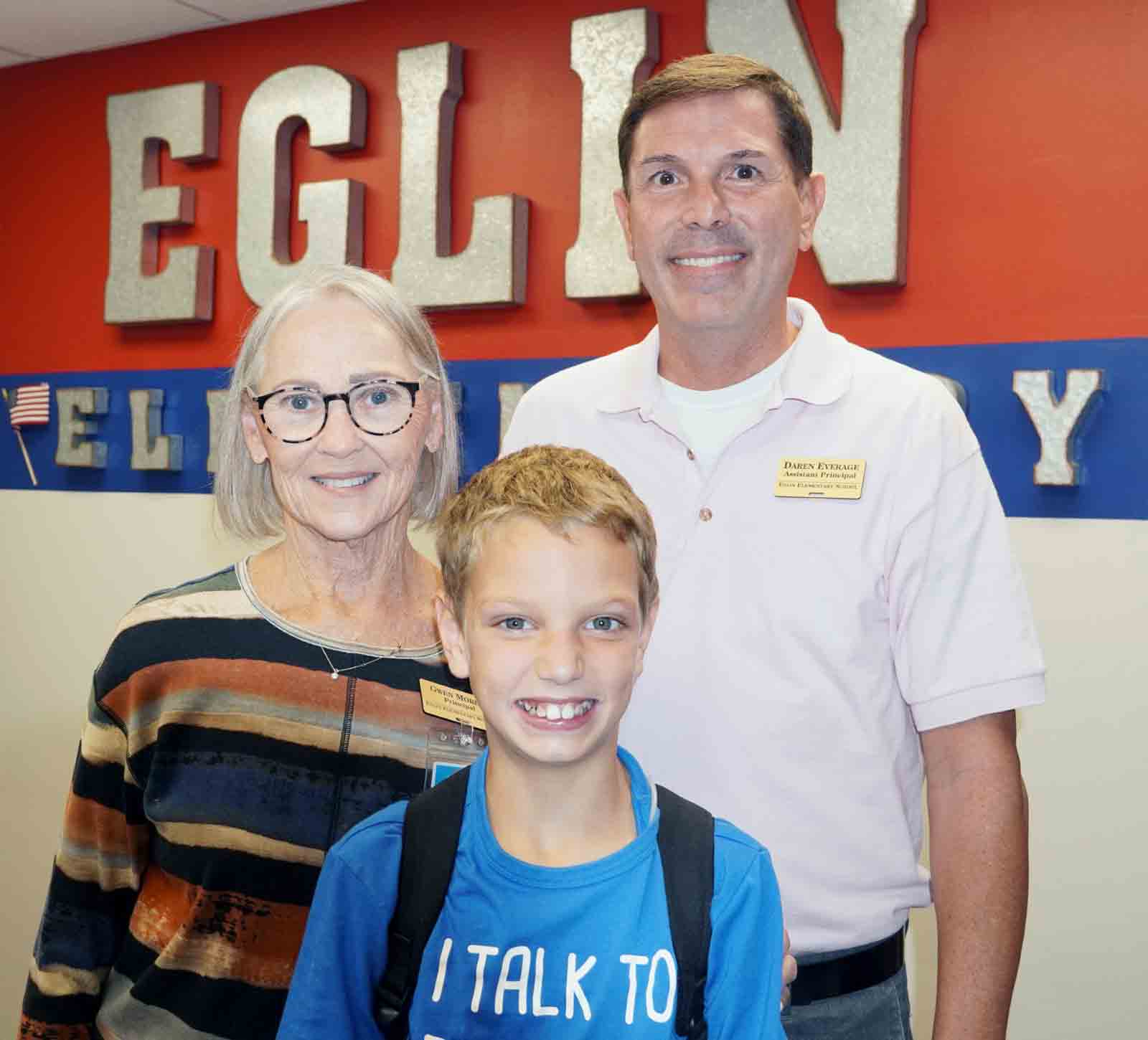 As a Student of the Month, Daniel receives a prize package that includes a fantastic assortment of gifts, certificates, and merchandise generously provided by The Wharf 850, Black Rifle Coffee, Eagles Nest, Katies House of Flowers, Publix, Chick-fil-A, Crumbl Cookies Niceville, and Jeremiah's Italian Ice.
We spotlight an exceptional student or teacher of the month from a local school each week, acknowledging their remarkable achievements. Each school chooses its teacher and student of the month.