OKALOOSA COUNTY, Fla. – Okaloosa County is lowering flags to half-staff at county-maintained buildings from sunrise to sunset on Saturday, Dec. 31, 2022, to honor the memory and sacrifice of Okaloosa County Sheriff's Office Corporal Ray Hamilton.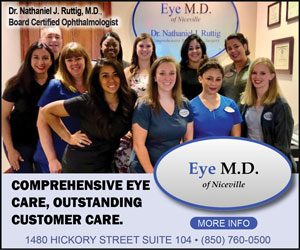 Hamilton was killed in the line of duty while responding to a call on Christmas Eve.
The lowering of the flags is in accordance with a memorandum from the office of Governor Ron DeSantis, the county said in an announcement.
"Our deepest condolences go out to the family of Corporal Hamilton and the Okaloosa County Sheriff's Office during this difficult time," said Trey Goodwin, Okaloosa Board of County Commissioners Chairman-elect.
"He will always be remembered for his service and sacrifice to the citizens of Okaloosa County. All residents of Okaloosa County should take a moment to reflect on the sacrifices of Corporal Hamilton and his fellow officers before him who also gave the ultimate sacrifice to keep us safe."
A Fort Walton Beach area man has been charged with first degree premeditated murder in the fatal shooting of Hamilton, the Okaloosa County Sheriff's Office (OCSO) said in a statement.
The OCSO said it had obtained a warrant for Timothy Price-Williams, 43, on a domestic violence battery charge but Price-Williams allegedly refused to exit his townhome at 710 North Park Boulevard.
The OCSO Special Response Team was summoned to try to negotiate with Price-Williams to give himself up peacefully, the OCSO said. Several deputies, including Hamilton, entered an area behind the backyard fence of the premises to help establish a safe perimeter.
Once they got into position, shots were reportedly fired from inside the home, and Hamilton was struck. He was rushed to HCA Fort Walton Beach – Destin Hospital, where he succumbed to his injury shortly after 3 p.m., the OCSO said.
Price-Williams allegedly continued to refuse to exit, then reportedly came out in a manner that caused another deputy to fire on him, injuring Price-Williams in his right arm.
He received medical attention at the hospital and was then transported to jail on a charge of premeditated murder.
Hamilton was the recipient of two lifesaving awards and was commended for his excellence during his five years of service with the Okaloosa County Sheriff's Office.
Read DeSantis' memorandum at https://www.flgov.com/flag-memos/.