NICEVILLE, Fla. – A blazing and thrilling July 4th fireworks show will light up the skies over Boggy Bayou beginning around 8:45 p.m. on Monday, July 4, 2022.

The multi-colored Independence Day fireworks will be launched with booms, bangs, sizzles, whirls, and whisks from the City of Niceville's custom-made barge anchored in Boggy Bayou between Lincoln Park in Valparaiso and Lions Park in Niceville.
Each year, people come from far and wide to delight in Niceville's fireworks display. While it is considered by many to be the area's most stunning show, the Fourth of July in Niceville is celebrated in an intimate, relaxed setting that only a small community can offer.
In most years more than a ton of thunderous, vividly colored fireworks are fired into the sky during the approximately 20-minute-long display. The annual show explodes with a dazzling finale of intense colors and roaring sounds that people love to see and hear—and share on social media!
Some of the most popular vantage points for public viewing of the annual fireworks show are Lincoln Park, Lions Park, Kiwanis Park, Niceville Landing, and Shipyard Point Park.
Early in the day, people begin picking their spots and setting up lawn chairs along the shoreline in the waterfront parks.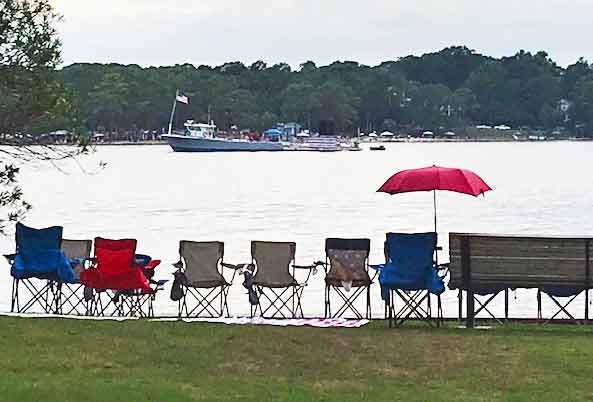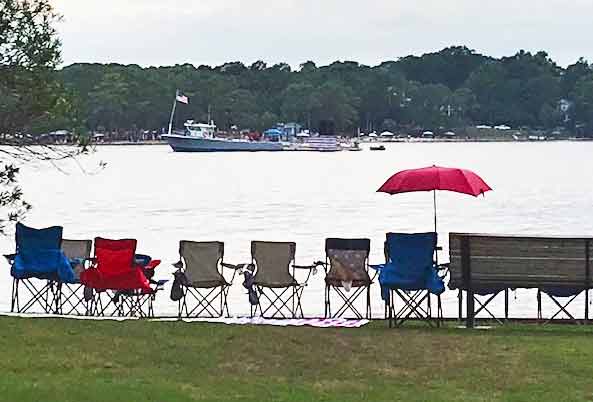 Others have commented on our Facebook Page in the past that they simply wait until the sun sets and then they watch the fireworks from a parking lot with an unobstructed view.
A large boat with loudspeakers anchors in the bayou and plays a mix of popular music–some of it patriotic–beginning about 6 p.m. The music can be heard across the bayou and much of the surrounding community.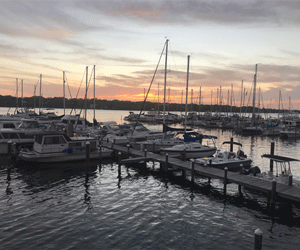 The Wharf 850 is perhaps the most popular venue in Niceville on the Fourth. With its iconic waterfront setting on historic Bayshore Drive, the Wharf 850 offers a spectacular view of Boggy Bayou, and the annual fireworks show. The Wharf 850 features a special July Fourth buffet with reserved seating for tables of four to six people and reserved parking. Seating is limited. Call for more information or reservations: (850) 500-1234.
The City of Niceville has announced that the parking lot at Lions Park will close starting at 11:59 p.m. on Sunday, July 3, and the boat ramp will close at 12 noon on July 4.
The parking lot and boat ramp will remain closed until after the fireworks display concludes.
While the boat ramp will remain open until noon on July 4, trucks and trailers must park elsewhere after launching, the city said in a statement.
After 12 p.m., there will be no loading or unloading of any boats permitted, the city said.
The Niceville Police Department (NPD) has issued a statement warning motorists not to park on sidewalks.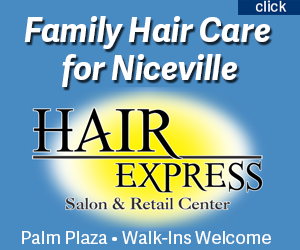 "We understand there is limited parking in the area of Lions Park, but it is a Traffic Violation to stop, stand or park on sidewalks," the NPD said.
"It can also cause a major safety issue for pedestrians walking to and from Lions Park and the viewing areas for the fireworks."