The 2015 Niceville Christmas Parade will be held on Saturday, December 5, beginning at 10 a.m. The theme of the Christmas Parade is "100 Years of Christmas in Okaloosa County."
The 2015 Niceville Christmas Parade will feature participants of all ages, and numerous Niceville schools, clubs, organizations and Niceville businesses will take part. The 2015 Niceville Christmas Parade is Niceville's only annual parade. It is sponsored by the Niceville-Valparaiso Rotary Club.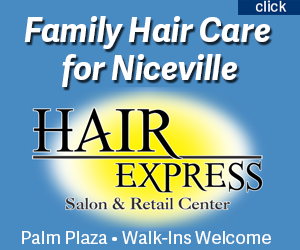 Spectators along the Christmas Parade route will enjoy marching bands, singers, custom floats, local dignitaries, and the official arrival of Santa Claus in Niceville. Candy and other treats are abundant.
The 2015 Niceville Christmas Parade starts at the intersection of State Road 20 and Palm Boulevard and makes its way down State Road 20 to Partin Drive, where it turns right. The parade then continues on Partin Drive past Ruckel Middle School. The judge's stand is located at the school.
A map of the 2015 Niceville Christmas Parade route is posted below.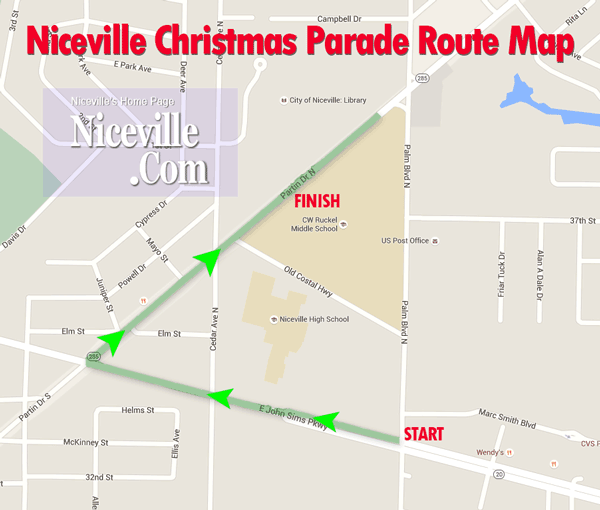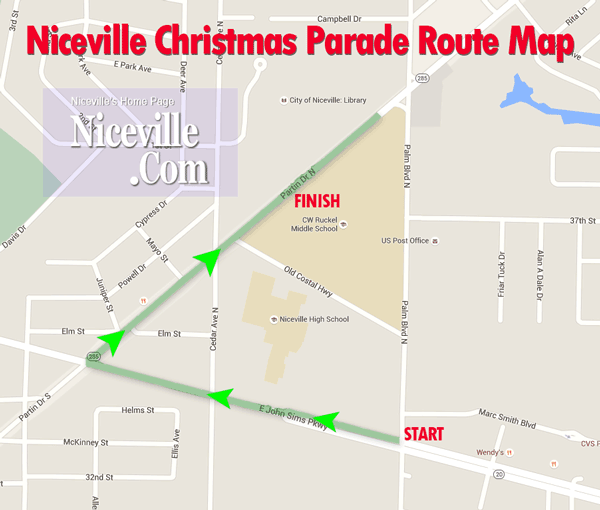 All proceeds from parade entries support holiday meals for families in need through Sharing & Caring and other Rotary community service projects.
Parade awards include the Grand Marshall Award, President's Award, and first, second, and third Place in the following divisions:
Commercial
Club/Non-Profit/Church/Gov – ADULT
Club/Non-Profit – YOUTH
Best Marching/ Performing Unit
If you are interested in participating in the 2015 Niceville-Valparaiso Community Christmas Parade you can get details and download an entry form here.