FLORIDA – There are important landscape lessons to learn from recent, early, and widespread freezes.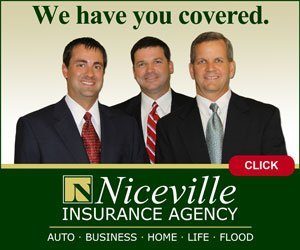 First, know the average climate for the region you live in here in Florida. The work has already been done for you with the USDA Plant Hardiness Zone Map. Here is a link for the map: https://planthardiness.ars.usda.gov. Find your zone on the map. Note that Northwest Florida includes zones 8a, 8b, and 9a.
The newest map, with interactive features, was updated in 2012.
This map is based on the average annual minimum winter temperature and is divided into 10°F zones. It can help you determine which plants are most likely to thrive in your zone.
There are areas bordering Alabama, located in the extreme northern portions of Escambia, Santa Rosa, Okaloosa, Walton, and Holmes counties, that are in Zone 8a, with an average annual extreme minimum temperature of 10 to 15 degrees F.
Most of these counties fall within zone 8b, with an average annual extreme minimum temperature of 15 to 20 degrees F.
The extreme southern portions of these same counties (bordering the Gulf) are in Zone 9a with an average annual extreme minimum temperature of 20 to 25 degrees F. As you go south in Florida, you move into Zones 9b, 10a, 10b, and 11a.
Zone 10b has an average annual extreme minimum temperature of 35 to 40 degrees F. Zone 11a; which includes a small portion of West Palm Beach and Fort Lauderdale, most of Miami, and all of the Florida Keys; has an average annual extreme minimum temperature of 40 to 45 degrees F.
It seems that some people move to extreme north Florida and think they are in extreme south Florida. They move barely below Alabama or Georgia and want to plant the palms, citrus and tropical plants that thrive in extreme south Florida.
If you live in Zone 9a, perhaps you might get by with growing a few plants that are well suited for 9b. But it is wise to mostly grow plants that are known to flourish in the Plant Hardiness Zone where you live.
Secondly, follow principle one, which is Right Plant, Right Place, as explained in the UF/IFAS Extension Florida-Friendly Landscape™ (FFL) Program. Following this principle results in developing a healthy, low-maintenance landscape by using Florida-Friendly plants. Florida-friendly plants match your site's soil, light, water, and climatic conditions and require limited supplemental irrigation, potentially less fertilizer, and fewer pesticides.
More information on the FFL Program is available through this UF/IFAS Extension link (https://ffl.ifas.ufl.edu) or from the Extension Office in your County.
Using these tools may be a great goal for 2023 as we replace cold-injured plants.
Larry Williams is the Extension horticulture agent with the Okaloosa County Cooperative Extension Service, University of Florida. Contact Larry at 689-5850 or email lwilliams@myokaloosa.com.