FORT WALTON BEACH, Fla. — The 2022 Okaloosa County K-12 Student Art Show was held on April 13 and 14, 2022, at the C.H. "Bull" Rigdon Fairgrounds in Fort Walton Beach.
The annual event was presented by the Okaloosa County School District and the Mattie Kelly Arts Foundation.
A reception was held on March 14 to present the Best of Show awards to the middle school and high school artists for 2-D and 3-D works.
Here are the middle school and high school Best of Show award winners:
ISADORA JAZAYERI, DESTIN MIDDLE SCHOOL
2D BEST OF SHOW – MIDDLE SCHOOL
"Ever since I was little, I loved art because of the creative nature of it," said Isadora. "How it brought people together and inspired. My family always encouraged me to pursue art whether it was through bringing me to art classes or drawing with me. What inspired me to make this painting was how bright and peaceful it felt. How it reminded me of the peaceful summer afternoons I would spend climbing trees as a kid."
AVA SAILER, LIZA JACKSON PREPARATORY SCHOOL
3D BEST OF SHOW – MIDDLE SCHOOL
Ava is an 8th grader at Liza Jackson preparatory school. She has always shown great talent in both studio and digital art. Ava hopes to continue to grow her artistic talent in the future.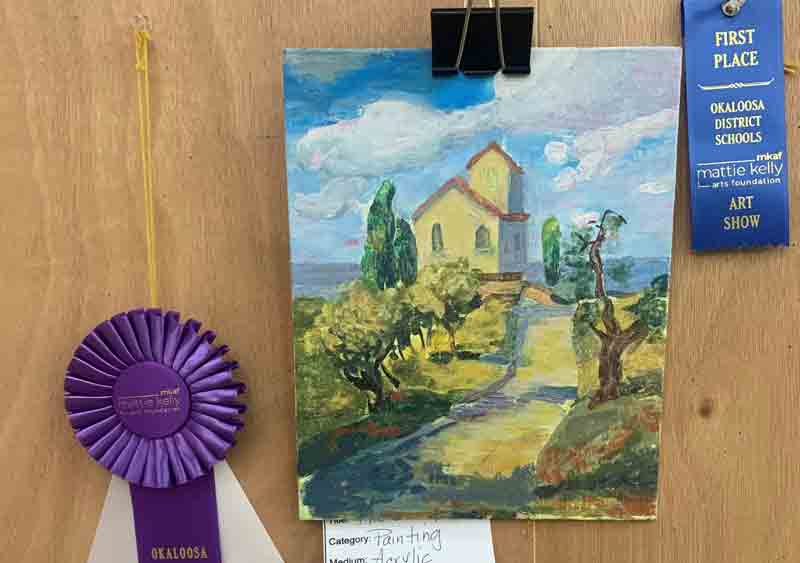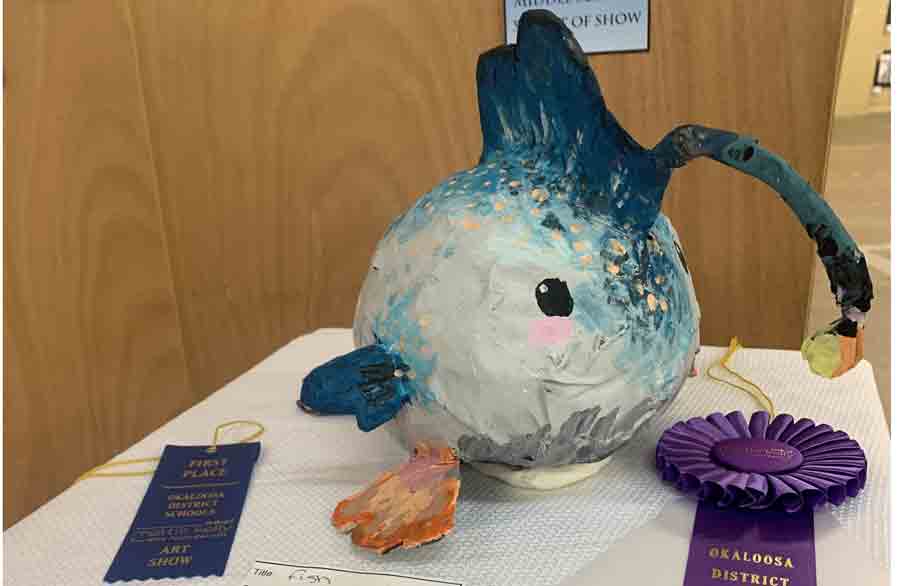 EMILY WOOD, NW STATE COLLEGE COLLEGIATE
2D BEST OF SHOW – HIGH SCHOOL
Emily Wood is a senior at Collegiate High School at Northwest Florida State College. After her high school and college graduations, she plans to attend the University of Central Florida in Fall 2022 and major in biomedical sciences with plans of becoming an anesthesiologist.
Emily has attended ADSO Summer Camps and taken art classes since she was a first grader. She has also competed and placed in many art shows across the county. Her preferred medium is realistic graphite drawings. Emily feels it is important to use her artistic talent to bring comfort and joy to others by gifting drawings she has done of those who are close to her.
EVELYN HASTY, FORT WALTON BEACH HIGH SCHOOL
3D BEST OF SHOW – HIGH SCHOOL
Evelyn Hasty is a junior at Fort Walton Beach High. She has been taking 3D art classes since her freshman year. She enjoys expanding her knowledge of pottery techniques and exploring new ideas to incorporate into her art. She began wheel throwing this year and has done some amazing pieces as well as experimenting with glazes. She plans to do AP 3D Art and Design next year.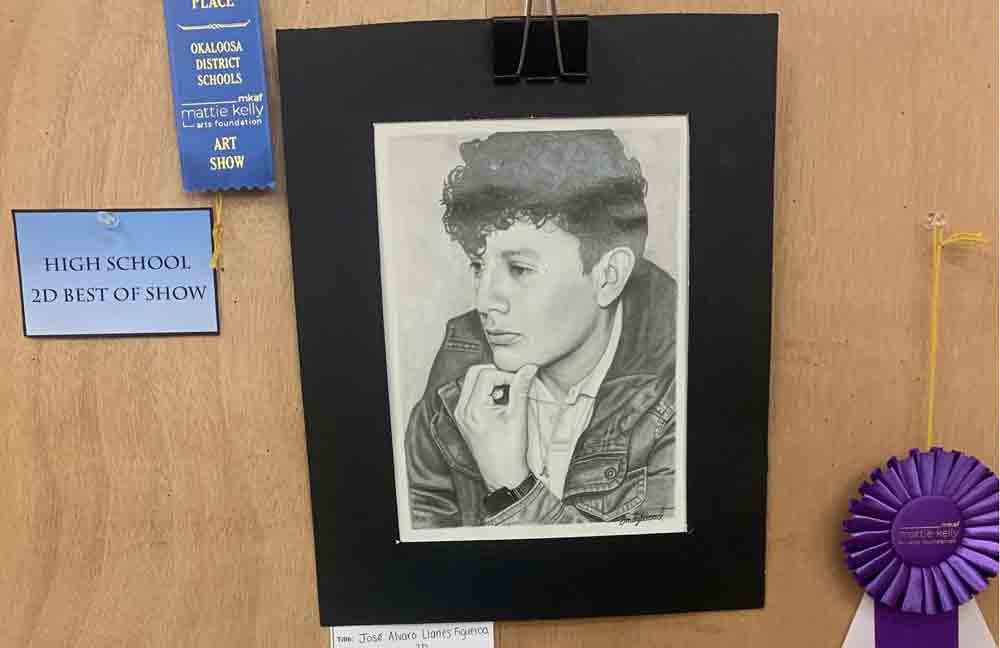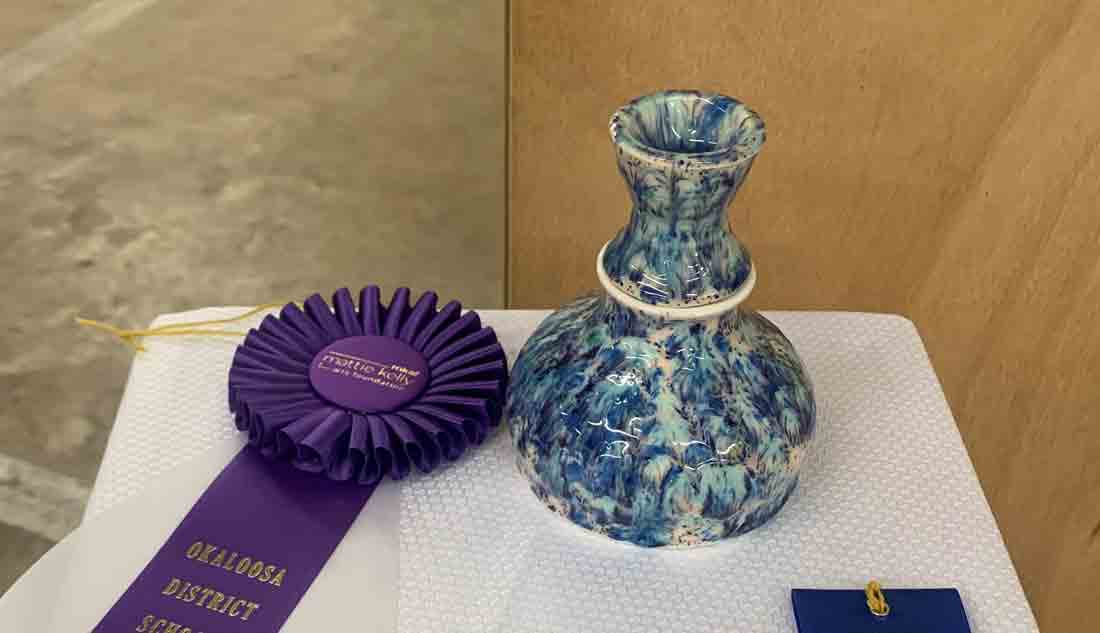 SAMANTHA FELDMAN, NICEVILLE HIGH SCHOOL
2D SUPERLATIVE – HIGH SCHOOL
"Art means the world to me," said Samantha Feldman. "It encompasses my daily life in such positive ways, whether that be an artistic eye that catches little things in the light or as an outlet during times of stress and misfortune. Most of all, art has given me an invaluable perspective. My mind has been set through repeated brush strokes and vibrant colors to automatically see beauty in everything around me. Art constantly grounds me to the present moment, allowing me to enjoy every minute of life with appreciation."
MAYAH STOKES, CRESTVIEW HIGH SCHOOL
3D SUPERLATIVE – HIGH SCHOOL
Mayah Stokes is a senior at Crestview High School. She will be attending Florida State University in the fall majoring in nursing. This is her second year taking ceramics classes. She is involved in multiple clubs and sports at CHS including swim, Student Government, Key Club, and Wind Ensemble. Outside of school, she works at Publix Pharmacy as a technician. Her sister first encouraged her to take ceramics classes, as she had taken with Mr. Pottinger when she was in high school. Ever since pottery has become one of Mayah's favorite outlets.