PACE, Fla. – Eglin Federal Credit Union has broken ground in Pace for its new branch location here. The new location is expected to be completed next year.
"On behalf of the Eglin Federal Credit Union Board of Directors, I'd like to be one of the first to congratulate EFCU on this new location," said EFCU Chairman William "Bill" Rone.
"As a local, I am excited we will be offering the benefits of membership to the Pace community and beyond," he said.
The new branch will be at 4413 U.S. 90 in Pace.
The new branch will be the second Eglin Federal Credit Union (EFCU) branch in Santa Rosa County. The Navarre Branch opened nearly 15 years ago.
La Macchia Group is the design/build firm for the new Pace branch, the Operations Center, and the recently announced Freeport branch, all expected to be completed in 2023.
"We chose this location in Pace to provide convenient access to affordable products and services as well as financial wellness resources to our current members," said Jerry Williams, EFCU President/CEO.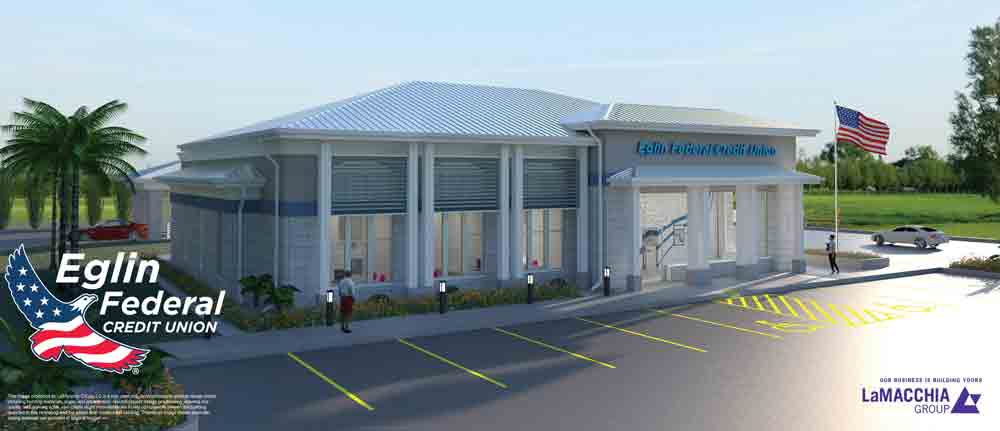 "There are approximately 1,500 members along the Highway 90 corridor in Santa Rosa County, and we are excited to extend the benefits of membership to our new neighbors as well as add value to this community."
The National Credit Union Administration recently approved expanding EFCU's field of membership to include anyone who lives, works (or regularly conducts business in), worships, or attends school, and businesses and other legal entities in specific geographic locations within Santa Rosa and Escambia Counties, Florida and Escambia County, Alabama, EFCU said.
According to EFCU, its Pace branch will be approximately 4,000 square feet and showcase a new open branch design that features universal employees, a member engagement area with interactive touch screen monitors.
The Pace branch will offer full-service with safe deposit boxes, coin counter, night drop, touch screen video tellers, and drive-up ATMs.
"I am also a proud 50-year EFCU member who can tell the story of how there are more than 122,000 members worldwide, assets are approaching $3 billion, there's no debt, and EFCU receives top grades on external audit and examination reports," added Rone.
"Eglin Federal Credit Union was recently awarded Credit Union of the Year for the State of Florida in the $500 Million and above asset size by the League of Southeastern Credit Unions. I believe Team EFCU epitomizes our motto, where members matter most."