VALPARAISO, Fla. — Bethany Culps of Addie R. Lewis School in Valparaiso is this week's Teacher of the Month, the first educator to be honored in the new Teacher and Student of the Month series sponsored by several local businesses and featured on Niceville.com.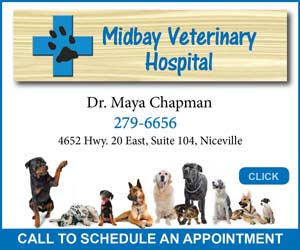 Ms. Culps currently teaches 1st through 2nd grade CBS students. She has been a Lewis Falcon for six of her 14 years in public education.
Ms. Culps' experience in helping students develop communication and self-regulation skills—and achieving academically—has identified her as a leader among her peers.
"Her commitment to supporting some of our most complex students, all while demonstrating a strong work ethic, is a huge support to our school," said Lewis School in naming Ms. Culps its Teacher of the Month for September 2023.
"Ms. Culps does all of the above while being a mom of two in an active-duty military family, which is no small feat when considering how demanding her teaching role is on a daily basis. Team Lewis is lucky to have teachers such as Ms. Culps, and we know our students benefit from her love and expertise!"
Ms. Culp receives a prize package that includes a fantastic assortment of gifts, certificates, and merchandise generously provided by The Wharf 850, Black Rifle Coffee, Eagles Nest, Katies House of Flowers, Publix, Chick-fil-A, Crumbl Cookies Niceville, and Jeremiah's Italian Ice.
Each week, we are shining a spotlight on an exceptional student or teacher of the month from a local school, acknowledging their remarkable achievements. We start the series today and will continue every Monday starting tomorrow. Each school chooses its teacher and student of the month.