FLORIDA — It is not too early to be thinking about the effect of cold weather on our landscapes. On average, our first killing frost for Northwest Florida usually occurs toward the end of November.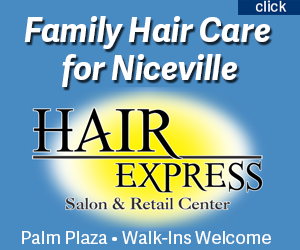 A killing frost results in sufficiently cold temperatures to kill tender plants, including warm-season vegetables such as tomatoes as well as cold-sensitive annuals such as impatiens. The occurrence usually kills all but the hardiest of plants.
Later in winter, we usually experience additional freezes, sometimes including hard freezes. Remember the multiple-night hard freeze that our area experienced during late December 2022?
Many of our North Florida landscape plants can be damaged by cold weather. Some of this damage can be reduced or possibly prevented when the plants are maintained correctly. There are things to do now to prevent some winter injury in your landscape.
First, strive to keep your landscape plants healthy. This includes trees, shrubs, and lawn grass. Avoid letting plants become stressed from lack of water or from being fertilized incorrectly.
When plants are weakened, they are more susceptible to disease and insect attack. This weakened condition will make the plants less likely to survive the winter months.
For most trees, shrubs, and warm-season lawn grasses, it is best to avoid fertilizing with a high-nitrogen fertilizer later than September. Nitrogen can force plants to produce new, tender growth late in the year. This young, tender growth is much more susceptible to cold injury.
Because pruning can cause plants to produce new growth, it's best to avoid shearing trees and shrubs during fall. Usually, a few weeks after pruning, a plant will begin producing new growth. This new growth will be tender and subject to cold injury.
This applies more to haphazardly pruning plants back (shearing and severe pruning). It does not necessarily apply to thinning a few branches. Thinning implies the complete removal of branches and limbs and usually does not stimulate an abundance of young, tender shoots.
Two to three inches of mulch, such as fall leaves, pine straw, pine bark, or wood chips, placed over the plant's roots will help protect the roots from freezing temperatures. This may not help in extreme hard freezes, though. However, it may delay freezing of the soil, allowing the plant's roots to continue to take in needed water.

In general, shorter days, cooler temperatures, and frosts are nature's way of preparing plants to slow down in growth and get ready for cold temperatures. As this happens, it's best to not do anything to stimulate late tender growth in our lawns, landscapes, and gardens.
Larry Williams is the Extension Horticulture Agent with the Okaloosa County Cooperative Extension Service, University of Florida. Contact Larry at 689-5850 or email lwilliams@myokaloosa.com.