EGLIN AIR FORCE BASE, Fla. – Sharon Rogers, a 46th Test Squadron test engineer at Eglin Air Force Base, has earned the Air Force's Brigadier General Wilma Vaught Visionary Leadership award.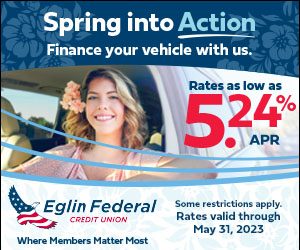 Rogers used the terms like "humbled, excited, and grateful" to express her feelings after finding out she'd won the award.
The award, created in 2012 in honor of Vaught, recognizes service members and civilians who exhibit innovation, commitment, and a selfless spirit of service to others while inspiring and significantly improving the integration of and opportunities for women in the Air Force.
"I'm very thankful to be honored and recognized at such a high level," said the former Air Force captain.
"There are so many people in my career who guided me and helped me get where I am today."
Today, she plans, conducts, and reports on developmental tests, specifically aircrew flight equipment and chemical, biological, radiological, and nuclear programs, Eglin Air Force Base (EAFB) said.
According to EAFB, it's in those areas that set Rogers, also 46th TS Civilian of the Year, apart for the award. She is currently testing a next-generation fixed-wing aircraft helmet. The goal is to improve stability, weight, comfort, and overall fit, as well as technology integration of various aircraft systems.
Another area highlighted in her awards package was her work with the in-flight bladder relief system, a new piece of equipment to help female pilots' bladder relief. The goal of the new system is to be used without having to unstrap and unbuckle from the aircraft seat.
The current bag system requires aircrew to unstrap from the seats and gear. This process can take over 45 minutes and creates a higher risk of forgetting to secure a strap, which could be fatal in the event of an emergency, EAFB said.
Also in her purview, developmental tests on various aircrew eye protection from lasers to nuclear flash blindness. In the chemical/biological department, she is part of a testing campaign to examine how quickly Air Force and Navy aircraft oxygen systems purge harm agents within the cockpit.  The F-15 purge test was accomplished here in August 2022.
Aircrew systems improvement keeps her and her team busy. She gives the credit for the award to those that help in all these processes.
"I've worked with many great aircrew, testers, and program offices," said Rogers, a tester for 21 years, 18 of which with the 46th TS.
"This is a reflection of the great team I am a part of."
Rogers' squadron leadership is grateful she is part of their team. They believed in her leadership and ability and submitted her for the award.
"Sharon earned this award with her selfless spirit of service and dedicated mission focus," said Lt. Col. Stephen Kennedy, 46th TS director of operations.
"She truly leads the way in testing and advancing the gear needed to keep all our aviators safe and effective during long and dynamic combat missions."