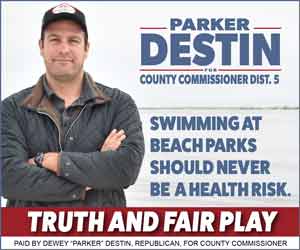 Team Eglin took a new spin on mentoring local high school students this year and look forward to following their bright futures.
At the beginning of the school year, Eglin's Equal Opportunity office created a curriculum to teach leadership skills to their program's six teens and paired them with a mentor for monthly lessons.
"The 96th Test Wing Academy is an Affirmative Employment Program initiative that recruits high-achieving students for the Air Force, while simultaneously allowing them to experience various science, technology, engineering, mathematics and medicine work areas," said Cecil Williams, director of Eglin's EO. "The students in this program already have the proper traits for success as shown in their individual grade point averages and they are allowed to come here and venture through specific areas."
The Okaloosa County school district suggested their schools choose someone with a 3.5 GPA or higher who has an interest in STEMM.
Tiffany Berkely, a 10th grade student, fit that description so Crestview High School told her she was one of their seven students nominated for the program. Berkely said being selected was a surprise.
"She is an achiever who puts pressure on herself," said her mentor, Latanya Bryant, 96th TW chief of financial management, about Tiffany's character traits and drive to explore her options for a future career.
After their initial meeting, Bryant, began showing the teen how she manages the budget for the 96th TW by creating Berkely's ideal $60K personal budget. Then she taught her the presentation skills required to vie for the dollars needed to support the mission.
Another student, Lindsay Brown, a 10th grade student at Choctaw High School in Fort Walton Beach, Fla., met with Capt. Nicholas Pulire, of the 96th Civil Engineer Group, throughout her school year to get an orientation of Eglin's environmental stewardship. Biology and wildlife are her key interests.
"I feel I need to provide support and assistance to the youth as I was helped when I was growing up," said Pulire. "I hope this would then translate into influencing others and ultimately improve the society as a whole get better. This is why I feel youth sports, coaching and mentoring are very important to allow a local population to become the best it can be."
Students participating in the Academy will return to the program two more years until graduation.
The "eager to learn" Berkely asked if the mentoring program would allow her to explore other career options during her next school year. She said financial management matched well with her courses in economics this year, but her enrollment in a pre-med program has her already thinking about what she could explore next.
Emergency medicine is exactly what Kierra Moore, Choctaw High School 10th grade student, is interested in. During visits with her mentor Lt. Col. Stephanie Schultz, of the 96th Medical Group, Moore experienced different areas of the Eglin Hospital.
Kaylee Battiste and Victor Makela, 10th grade students from Fort Walton Beach High School, expressed interest in the engineering or sciences career field, so they have been touring multiple facilities on Eglin that support the range, flightline and research, development test and evaluation.
Katherine Hodges, of the Air Force Life Cycle Management Center's contracting office, meets with David Gaucho, a 10th grade student at Niceville High School, who is interested in mathematics.
"I was extremely impressed with my mentee," said Hodges. "My goal now is to keep his interest peaked."
Throughout high school years, the students are expected to explore their future options with the help of their mentors.
"The continuum we are trying to establish will allow us to stay in touch with the students throughout their college careers if they allow us," said Williams. "The ultimate goal is to get the kids to make the Air Force their choice for a career, whether military or civilian."
Story by Chrissy Cuttita
Team Eglin Public Affairs
Photo: Tiffany Berkely, Crestview High School 10th grade student, experiences what it is like to be an air traffic controller the help of Maj. Mark Oden, 96th Operations Support Squadron flight commander, at the Eglin Range Control Facility. As part of the lesson plan for the 96th TW Academy, a base mentoring program and Affirmative Employment Program initiative, Berkely's mentor, Latanya Bryant, 96th TW chief of financial management, shared her year-long experience of managing a team of budget analysts in calculating costs of meeting a mission need for a new air traffic control system from the initial concept, through construction, upgrading technology and current operation. (U.S. Air Force photo/Chrissy Cuttita)