Activities at the Niceville Senior Center during May include card games, yoga, chess lessons, crochet and knitting classes, line dancing, pool, Zumba, and presentations about Niceville history, gardening, fighting fraud, long-term care, Chronic Hepatitis, and managing grief and loss.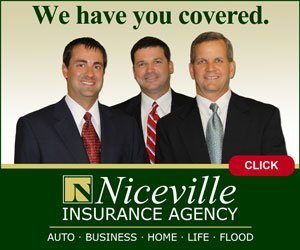 With the long, hot days of summer just ahead, the coolest place in town for seniors is the Niceville Senior Center. Here, seniors 55+ gather for fun, fellowship, food, and to take part in a wide array of games, classes, lectures, gardening presentations, arts, crafts, topical discussions, and other events geared to the mature adult living in or near the Nicest Little City in the South.
The Niceville Senior Center empowers and enhances the lives of area seniors with programs and caring services that promote wellness, social connection, nutrition, education, independence, activities, volunteerism, and fun.
The Senior Center, which opened in December 2018, already has over 900 members.
Activities at the Niceville Senior Center during May include card games, yoga, chess lessons, crochet and knitting classes, line dancing, pool, Zumba, and presentations about Niceville history, gardening, fighting fraud, long-term care, Chronic Hepatitis, and managing grief and loss.
The food truck of the month is Spork. It will be at The Senior Center May 8 from 11 a.m. until 2 p.m.
Below are programs, events, and activities taking place this month at the Niceville Senior Center. For complete info, including dates and times, see the Senior Center calendar here. Download the May Senior Center newsletter here.
Membership to the Niceville Senior Center is open to adults aged 55 or older living inside and outside of the Niceville City limits. Membership is free of charge to city residents. Seniors living outside of the city pay a monthly fee of $10 per individual or $15 per couple.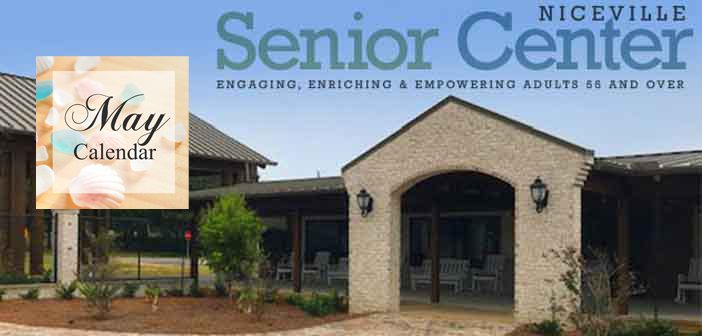 MAY 2019 AT THE NICEVILLE SENIOR CENTER
AARP DRIVER SAFETY COURSE AARP
Driver safety course designed especially for drivers age 50
AROMA TOUCH HAND
A simple 5-minute technique using essential oils.
ART STUDIO SPACE: SKETCHING 101
Draw and shade basic three-dimensional shapes.
CANASTA and SPADES
Beginners or experienced.
CHAIR YOGA
Improve posture, range of motion.
CHARM CHAT: FALL REDUCTION PLAN
Collect your charm and enjoy a smoothie while listening to a quick chat about how to decrease your chance for a fall.
CHESS LESSONS FOR BEGINNERS
Join this limited signup class during May for one-on-one hour-long chess lessons.
CRAFT GROUP
All craft levels invited.
CREATIVE MOVES
Develop strong brains and bodies through joyful and meaningful movement.
CROCHET CLASS
Intro to crochet class for the novice or more skilled.
DUPLICATE BRIDGE
Learn how to play Duplicate Bridge.
EUCHRE CARD GROUP
New and experienced players welcome.
FIGHTING FRAUD
Ron Moliterno of Bancorp South will help you learn how to recognize fraud and protect yourself.
FOOD TRUCK LUNCH: SPORK
Join us for lunch from our food truck of the month.
HAPPY HEART YOGA
Improve strength, flexibility and postural balance.
IPHONE AND IPAD TUTORIAL
Learn how to navigate your iPhone and iPad and optimize your devices while learning online safety features.
KNITTING CLASS
The perfect way to learn how to knit or brush up on your skills in a fun environment.
LINE DANCING
A fun way to dance your way to better health.
LONG TERM CARE
This in-depth seminar will look at what is Long Term Care and why it is so important to be prepared.
MAC COMPUTER CLASS
Learn the basics of the Mac OS Mojave operating system.
MAH JONG
New and experienced players welcome.
MANAGING GRIEF & LOSS
A support group to help with the healing process and develop coping skills over the loss of a loved one.
MARKING NICEVILLE HISTORY: THE CIVILIAN CONSERVATION CORPS
Join us as Elisa Mitchiner shares camp history and plans to honor the men of Company 1402 Forest-3 and Company 1413 Army-1 for their contributions to our local and military history during the years of The Great Depression, and to ensure their legacy for future generations.
MASTER GARDENER PRESENTATION POLLINATORS' PARADISE
Plant suggestions and ideas for multiplying the pollinator plants in your landscape.
MASTER GARDENER WALK IN Q & A
Okaloosa County Master Gardeners, trained by University of Florida and Extension staff, are available to answer your gardening questions.
MEDITATION
Expand your states of consciousness, improve your focus, improve your health, be happier, improve relationships, and create more space in your life.
MEXICAN TRAIN DOMINOES
Join us for a laid-back, easy introduction to dominoes.
PAJAMA DAY
Wear your PJs all day at the Senior Center.
PARTY BRIDGE
Beginners and experienced players are invited.
PINOCHLE
New and experienced players welcome.
POKER 101
Learn how to play poker and play hands to sharpen your skills.
POOL LEAGUE
Laid back group of individuals playing pool and socializing.
PORTRAIT SKETCHING
This class teaches how to draw portraits.
ROUND TABLE DISCUSSION GROUP
Informal discussion group addressing economic, political, and sociological issues.
RUMMIKUB
New and experienced players welcome.
SENIOR SCAMS
This program will cover current scams being perpetrated against seniors in Florida and across the country.
SHINE MEDICARE COUNSELING
The SHINE (Serving Health Insurance Needs of Elders) Program provides Medicare and health insurance counseling and information from an unbiased source.
SOCIAL GAME TIME
Learn various games in a fun environment.
STRETCHING EXERCISE CLASS
Total body stretch takes you through simple, relaxing moves to stretch the hamstrings, quads, calves, back, chest and arms.
TALK WITH A DOC: CHRONIC HEPATITIS C, A SILENT INFECTION
These talks are educational and about 30 minutes long.
TAI CHI
Learn techniques to flow with and react to the changes and confrontations of life.
VETERAN'S CHAT 'N CHEW
We bring the chew; you bring the chat.
ZUMBA GOLD
A dance/fitness class that is designed to be low impact.