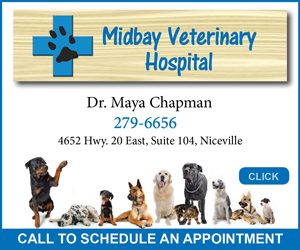 The 2015 Saturday in the Park Heritage Festival will be held on Saturday, April 25, 2015, 8 a.m. to 4 p.m., at the Heritage Museum of Northwest Florida, and Perrine Park, both located on Westview Ave. in Valparaiso.
The 39th Annual Saturday in the Park begins with the Heritage 5K Run/Walk & Kids 1 Mile Fun Run at 8 a.m., then continues through the day with live entertainment, historic craft demonstrations, reenactors, folk artists, food vendors, and a Kid Zone with old-fashioned toys, contests and more.
The museum will feature free admission and new exhibits, such as "Pieces of the Past: Okaloosa Centennial," which commemorates Okaloosa County's 100th anniversary.
Craft demonstrations will include bobbon lace, weaving, chair caning and a great variety of art, craft and antique vendors.
A raffle will be held for a kayak and youngsters can win prizes by taking part in the watermelon eating and bubble gum blowing contests.
The Heritage 5K takes runners and walkers on a scenic route along beautiful Boggy Bayou. The first 200 applicants will receive a free t-shirt and winners in each category will receive a unique matted and framed photograph from the Museum's library archives. Register early at Active.com or visit the Museum at 115 Westview Ave. Additional Fee for Race Day Registrations.
Saturday in the Park has long supported the Museum's mission to promote the rich heritage of Northwest Florida.
Come join the fun at the 39th Saturday in the Park Festival at the Heritage Museum of Northwest Florida in Valparaiso. Handicap parking and shuttle service provided (extra parking is available at Lincoln Park with shuttle service to the festival site). For more information call 850-678-2615.
Schedule of Events, 2015 Saturday in the Park
All Day:  Free Museum admission; Antique Car Display; Kid Zone; Reenactors; Historic Craft Demonstrations; Vendors; Bake Sale and more.
7 a.m.                    Registration/Packet Pick-up for the Heritage 5K Run/Walk & Fun Run
7:45 a.m.              Opening Ceremony
8 a.m.                    Start of Heritage 5K Run/Walk; Emerald Coast Pipes & Drums Performance
8:30 a.m.              Saturday in the Park Special Show Band Performance
9:15 a.m.              Paradise Garden Tour; Race Awards Presentation
10:15 a.m.           A Dance Studio Performance
11:30 a.m.           Irish Blend Performance
12 p.m.                 Emerald Coast Chorus Performance
12:30 p.m.           Sugar Beach Chorus Performance
1:30 p.m.             Old Fashioned Contests (Watermelon & Bubble Gum)
2:30 p.m.             Pyramid Players Performance
2 p.m.                   ATA Taekwondo Demonstration
3:30 p.m.             Lewis Jazz Band Performance