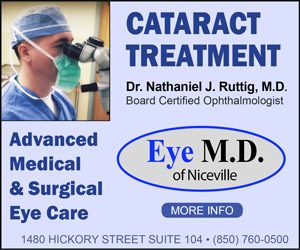 Ruckel Properties' new development in Niceville, Deer Moss Creek, is named after the creek that runs the length of the 1100-acre property. The first phase is named Hartfield and this neighborhood will have 98 single-family homes. Infrastructure is scheduled to be completed in the spring of 2017. According to Ruckel Properties, the lots will range in size from 0.11 to 0.38 acres and also range in price point. There will be interior lots and lots that back up to the future trail system.
The public trail will be paved and follow the path of the creek so that every neighborhood will eventually have a connection to the trail and creek as the development progresses. A planned bike path on the main road "Deer Moss Loop" will add to the choices for walking and biking. Residents will enjoy parks, gazebo, and a natural amphitheater in the first neighborhood of Hartfield as they are constructed. Future amenities for the entire Deer Moss Creek community will also include more parks, community centers and pools.
A mixed-use development, the Deer Moss Creek community concept includes a village center with shops, restaurants, and entertainment. The commercial area that will be accessed from Walt Spence Parkway, is envisioned to have a hotel, grocery store, gas station, bank, restaurants, stores, offices, etc. A "light industrial" center in the northeast section of Deer Moss Creek has the potential to have advanced manufacturing, light assembly, science and technology firms, defense contractors, etc. Ruckel Properties' goal is to facilitate job creation for the area.
Comprised of 1,087 acres of an extensive xeric hammock natural community type (multi-storied forest), the existing canopy is populated by Sand Pine, Slash Pine, Black Gum, Southern Bay Magnolia, Large Gallberry, Long Leaf Pine, Turkey, Red, Blackjack, and Live Oaks, Black Titi and Red Maple. Deer Moss, Bracken Fern, Dog Fennel, Blackberry, Muscadine, Cinnamon Fern, Netted Chain Fern, Bamboo Vine, Sweet Pepper Bush and Swamp Cyrila make up a large portion of the groundcover and understory plants.
Lots in the first neighborhood of Hartfield will be offered for sale in 2017 to approved builders before Ruckel Properties offers lots to the public. Interested builders will be required to go through a review process with the Deer Moss Creek Town Architect which includes paying a nonrefundable design review fee and submitting complete plans for a house they would potentially build in Deer Moss Creek. The builders will be informed if they are accepted into the Builder's Guild as an approved builder for Deer Moss Creek. A meeting for interested builders will be scheduled during November of 2016 to introduce them to the town architect, the Pattern Book (A Design Guide for Planning and Architecture) and the building process. The Deer Moss Creek Town Architect will approve the house plan for each lot.
Deer Moss Creek is bounded on the north by Eglin Air Force Base, on the east by Walt Spence Parkway, on the south by Rocky Bayou Drive, and the west by Forest Road. A private, limited-use, grass airstrip is located on the western edge parallel to Forest Road. Deer Moss Creek is a Community Planned Unit Development (CPUD) and was annexed into the City of Niceville in 2010.
Marion Ruckel Skalicky, President and CEO of Ruckel Properties, hopes to create a community where people can live, work, shop, take advantage of entertainment and enjoy nature. "We are very excited to be bringing Deer Moss Creek to our area," she said. "We hope that future residents and visitors alike will enjoy the paved nature trail along the creek. We will encourage school field trips to visit and learn about the natural environment. We have a deep appreciation for this beautiful piece of property and look forward to sharing it."
Ruckel Properties' first phase, the neighborhood of Hartfield, is located in the southeast corner of Deer Moss Creek north of the Huntington subdivision. Information including pricing, maps and the building process will soon be available on Ruckel Properties' new website launching in a couple of months. For more information, call Kelly Murphy-Redd at Ruckel Properties at 850-678-2223.
PHOTO (top): May 2016 groundbreaking. Left to Right: Allen Tucker: Gustin, Cothern and Tucker, Inc.; Kelly Murphy-Redd: Ruckel Properties, Inc.; Matt Schwalb: Matrix Design Group; Marion Ruckel Skalicky, Ruckel Properties, Inc.;  Matt Zinke, Jenkins Engineering/GCT Engineering; Vern Young, Young's Contracting.