The upgrade of the NHS track facilities now underway includes a rubber track, new hurdles, updated discus cage and shot put area, pole vault pit and runway, and runways for long jump and high jump.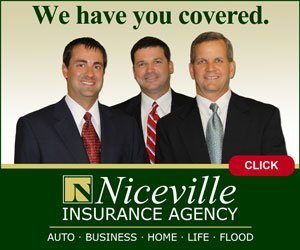 Thanks to the effort of supporters and the generosity of the community, the Niceville High School Track Team will have a rubber surface on which to run beginning about 10 days from now.
The new rubber track replaces the current asphalt track at Eagle Stadium at the school. If all goes as planned with the installation of the new rubber track, it will take about a week to install and can be used shortly after that.
In addition to the rubber track, the facility upgrade includes other improvements such as new hurdles, updated discus cage and shot put area, pole vault pit and runway, and runways for long jump and high jump.
"It's a great thing for our community and school," said Langston Stove, NHS hurdles coach.
The improved athletic and exercise facilities benefit Niceville High School students, faculty, staff, and members of the community who use the track said Stove. Also, it makes the stadium more suitable for hosting competitive track and field events.
With the upgraded facilities, the track team will no longer run on an asphalt surface. Instead, they will practice and compete on what is considered a superior surface, one which will likely reduce impact-related injuries.
"This will help a lot in cutting down on the injuries caused by the constant pounding on asphalt," said Stove.
Also, the upgrade will make it possible for all members of the team to practice in one location at the same time. As it now stands, the current facility is not suitable — and in some instances, hazardous — to practice some events simultaneously. Student athletes who sprint, pole vault, or long jump must regularly travel to Eglin Air Force Base, Destin, or Walton County to practice.
The $125,000 needed to fund the upgrade was raised by track supporters, as well as team members, through soliciting donations and holding numerous fundraisers.
"It's been a huge community effort," said Misty Schneidewind, track team organizer.
Schneidewind's daughter, Hannah Schneidewind, a member of the track team, was instrumental in securing several business and civic donations. The largest donation, $25,000, came from the City of Niceville.
The fundraising effort by volunteers, which included such events as car washes and pancakes breakfasts, raised more than the $125,000 needed for the upgrade. The additional funds will be used to maintain and resurface the track as it ages. Some of the fundraising events, such as a 5K run, will likely become annual events to raise funds for track maintenance. The track will need to be resurfaced about every four to five years at the cost of around $30,000, said Schneidewind.