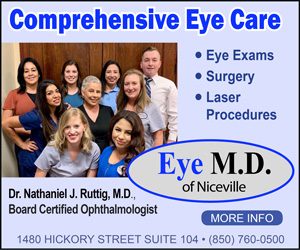 Oklahoma!, one of the most popular musicals in Broadway history, will be presented July 15 – 18 as the 2015 summer musical production of the Humanities, Fine & Performing Arts Division of Northwest Florida State College. Performances are at 7:30 p.m. each evening.
The show will appear in the magnificent Mattie Kelly Arts Center mainstage theater on the college's Niceville campus and will feature original set and costume design along with a cast of talented regional actors.
Tickets for Oklahoma!are now on sale through the center's Box Office, by phone web or in-person. Call (850) 729-6000 Monday to Friday from 10:00 am to 4:00 p.m. or purchase online through the center's website. Tickets are $25 adult and $20 for youth age 18 and younger. As the college's summer musicals are always very popular and often sell out, early advance purchase is strongly recommended for best selection of night and seating!
As the first musical written by the legendary team of composer Richard Rodgers and librettist Oscar Hammerstein II, Oklahoma! was a box-office smash and ran for an unprecedented 2,212 performances on Broadway, later enjoying award-winning revivals, national tours, foreign productions and an Academy Award-winning 1955 film adaptation. Rodgers and Hammerstein won a special Pulitzer Prize for Oklahoma! in 1944.
Rodgers & Hammerstein's first collaboration remains, in many ways, their most innovative, having set the standards and established the rules of musical theatre still being followed today. Set in a Western Indian territory just after the turn of the century, the high-spirited rivalry between the local farmers and cowboys provides the colorful background against which Curly, a handsome cowboy, and Laurey, a winsome farm girl, play out their love story.
Although the road to true love never runs smooth, with these two headstrong romantics holding the reins, love's journey is as bumpy as a surrey ride down a country road. That they will succeed in making a new life together we have no doubt, and that this new life will begin in a brand-new state provides the ultimate climax to the triumphant OKLAHOMA!
Set in the Oklahoma Territory outside the town of Claremore in 1906, it tells the story of cowboy Curly McLain and his romance with farm girl Laurey Williams. A secondary romance concerns cowboy Will Parker and his flirtatious fiancée, Ado Annie.
Selected for the lead roles in OKLAHOMA! are:
Katie Pickler of Niceville as Laurey Williams;
Tristan Allen of Fort Walton Beach as Curly McLain;
Sean Royal of Mary Esther as Will Parker;
Megan Garofalo of Santa Rosa Beach as Ado Annie Carnes;
Daniel Thornton of Baker as Jud Fry;
Gretchen Erickson Niceville as Aunt Eller;
Jason Mueller of Fort Walton Beach as Ali Hakim;
Clayton Reed of Crestview as Ike Skidmore (Ranch Owner);
Dylan Garofalo of Santa Rosa Beach as Andrew Carnes (Farmer);
Victoria Mullins of Santa Rosa Beach as Gertie Cummings;
The Women's Chorus roles in OKLAHOMA! will be played by:
Holly Johnson of Niceville as Kate;
Brittany Castle of Fort Walton Beach as Ellen;
Arin Walker of Niceville as Virginia;
Brittany Parry of Crestview as Vivian;
Jordan Van Dyke of Niceville as Sylvie;
Madalyn Wilson of Santa Rosa Beach as Armina;
Isabel Rivera of Niceville as Aggie;
Wesley Urbanczyk of Niceville as Wilhemina (Dancer);
Ansley Walker of Fort Walton Beach as Edwina (Dancer);
Joleigh Jarvis of Niceville as Becky Sue and Laurey double in ballet;
The Men's Chorus roles in OKLAHOMA! will include: Donovan Black of Niceville as Cord Elam (Ranch Foreman);
and various men's roles: James Meadows of Fort Walton Beach;
Wesley Barlow of Crestview;
Zachary Phillips of Niceville;
Richard McWhorter of Niceville;
Shelby Steverson of Crestview;
and Nick Watson of Crestview.
The Mattie Kelly Fine & Performing Arts Center is located at 100 College Boulevard, East and is a non-profit entity of Northwest Florida State College. A portion of all ticket sales support NWF State College scholarships.
OKLAHOMA! is presented through special arrangement with R & H Theatricals: www.rnh.com. Music by Richard Rodgers, Book and Lyrics by Oscar Hammerstein II, based on the play "Green Grow the Lilacs" by Lynn Riggs, with original dances by Agnes de Mille.
Website: http://purchase.tickets.com/buy/TicketPurchase?orgid=21891