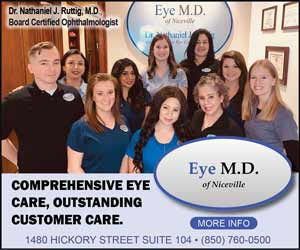 The Okaloosa County High School All Star Academic Team competed at the Commissioner's Academic Challenge at Walt Disney World recently and came home with a State Championship in Division 2. 
Several members of the team come from Niceville schools.
According to their website, the Commissioner's Academic Challenge is a highly academic statewide high school tournament that began in 1986. The school districts are placed in three divisions based on the fall FTE summary provided by the Florida Department of Education.  Each team consists of six members (a maximum of four players during each of the three rounds and two alternates) and a coach.  A maximum of six teams may compete in one competition round. This is not a quick response, trivial pursuit contest.  Instead, it is a slower-paced tournament in which players are asked questions from the areas of language arts, mathematics, science, social studies, the fine arts, world languages (French and Spanish) and technology. The questions are written by educators from high schools throughout the state.
"The students played extremely well throughout the competition," said Carol Bernich, who serves as a coach and is the District Coordinator of Academic Teams. "As a result of months of practice together, they cultivated a high level of trust in each other's abilities and academic strengths. Consequently, they were able to capitalize on each opportunity to score points after coming to consensus as a group. From a coaching perspective, we could not have been more pleased with their strategy to play smartly and conservatively throughout the tournament. Having Alex Fager also named as a member of Team Florida was the exclamation point to the whole tournament!"
The Okaloosa Academic Team was coached by Carol Bernich, Dr. Mike Mosley, and Julie Mosley.  Team members included Ciara Ordner, Niceville High School, Alex Fager, Niceville High School, James Sung, Rocky Bayou Christian School, Adam Metruck, Fort Walton Beach High School, Alex Messick, Crestview High School, and Sophia Bergmann, Niceville High School. Hudson Pearce, Niceville High School, and Jonathan Ingram, Collegiate High School, served as student observers.
The goal of the tournament each year is to provide a prestigious academic arena in which Florida's academically talented high school students are recognized.
The Okaloosa team scored 217 points in the Finals while St. Lucie scored 210, and Citrus scored 186.
All participants receive commemorative pins and the 1st-, 2nd-, and 3rd-place team members will receive championship rings from Herff Jones.  In addition, the Florida High School Athletic Association awards trophies to the state champion districts in the three divisions and medallions to the members of these district teams.  Team members were also awarded $500 scholarships.
Alex Fager was selected to be one of six team members for Team Florida and will return to compete at the National Tournament of Academic Excellence at Walt Disney World in June.
Team Florida consists of six students, one each from the division-winning districts and three chosen from the remaining teams.  The six students earning this distinction will receive a $1,000 scholarship.
For more information on the Commissioner's Academic Challenge, click here.