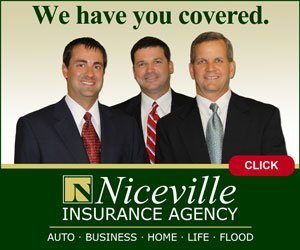 The Okaloosa County Commission has proclaimed Saturday, October 1 as "'Wear Pink Day" in Okaloosa County for the third consecutive year. Fort Walton Beach Medical Center and Twin Cities Hospital encourage residents to kick off Breast Cancer Awareness month by wearing pink and posting their photos to social media using the tags #WearPinkDay and #StandingUpToBreastCancer.
As part of Fort Walton Beach Medical Center and Twin Cities Hospital's Breast Cancer Awareness month activities, they're following up Wear Pink Day with a free community dinner – Standing Up To Breast Cancer – on October 6 at the Niceville Community Center from 5:30 pm – 7:30 pm.
As you visit the hospital facilities throughout October, you'll notice hundreds of pink flamingos available for adoption! Donate $15 at either hospital and take your flamingo home to display your support for Breast Cancer Awareness. Flamingos will also be available for adoption at the Standing Up To Breast Cancer dinner. 100% of the proceeds from this fundraiser benefit the American Cancer Society's Making Strides Against Breast Cancer and Relay For Life.
Seating is limited; registration is required! For more information, or to secure your reservation, call 855-614-7274!
Fort Walton Beach Medical Center is a 257-bed full-service hospital with over 200 of the most highly respected and qualified physicians in the area. It is the only acute care hospital in the Tri-County area that offers open heart surgery, an Advanced Primary Stroke Center and an Accredited Chest Pain Center. It's expanded emergency services include a dedicated Pediatric ER, an Express ER for minor injuries and illnesses and a full-service 24/7 ER. Also, with state approval to accept all trauma patients from EMS, Fort Walton Beach Medical Center will soon have the area's only Level II Trauma Center. Fort Walton Beach Medical Center – Exceptional People. Exceptional Care.
Twin Cities Hospital is a 65-bed facility with a medical staff of over 150 physicians. It offers all private rooms and the areas first Certified Orthopedic Joint Replacement Program and first Certified Spine Surgery Program, in addition to a state-of-the-art surgery center. Twin Cities Hospital also has 24 hour emergency services, a critical care unit, Certified Diabetes Education Program, and a variety of inpatient and outpatient diagnostic imaging and laboratory services. Located at Highway 85 North and College Boulevard in Niceville, Twin Cities Hospital also has the areas only hospital based Wellness Center, offering numerous health related seminars throughout the year. For more information, please visit TCHospital.com or call (850) 678-4131. Extraordinary People—Extraordinary Care