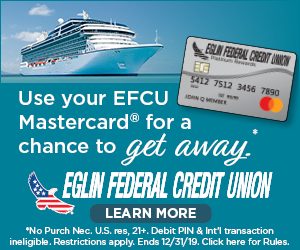 The Niceville Young Professionals (NYP) presented Rev. Rurel Ausley, Lead Pastor at Crosspoint in Niceville, with a truck load of donations for the Bargain Box at the groups monthly luncheon.
During the lunch NYP members enjoyed a "Perceptions For Young Professionals" presentation by Rev. Ausley who shared wisdom and positive thoughts with the group. Members and guests also learned that the Bargain Box ministry brings in nearly a half of a million dollars annually – all of which is given back to the local community through the benevolence ministry and partnerships with other non-profits organizations.
Throughout the month of November NYP members will collect toys, school supplies, hygiene items and cash donations to support the First Baptist Church of Niceville, Operation Christmas Child Shoebox Campaign. Donations can be dropped off at the Niceville Valparaiso Chamber of Commerce during normal business hours.
Niceville Young Professionals is accepting new members, information on the group can be found on the Niceville Young Professional's Facebook page. NYP is an emerging group of young professionals committed to making measurable and significant impacts in both their personal and professional lives, as well as in the Niceville and Valparaiso communities.
Photo Caption: NYP Members donated gently used items collected by the group in September for the Crosspoint Niceville Bargain Box to Guest Speaker Rev. Rurel Ausley.