Easter Egg Hunts, Egg Dash set for Saturday morning in Bluewater Bay, Niceville, and Valparaiso.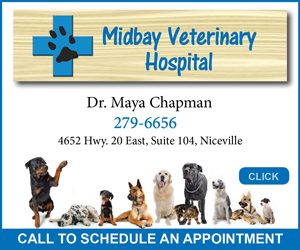 Thousands of plastic Easter eggs containing candy and prizes will be hunted and collected by Niceville area youngsters on Saturday morning in free public Easter Egg events in Niceville, Valparaiso, and Bluewater Bay.
The weather forecast for Saturday is sunny and warm, perfect for outdoor Easter events and egg hunting!
Here is the Easter Egg Hunt lineup for Saturday, March 31 in Niceville, Bluewater and Valparaiso:
The Bluewater Bay Tennis Center hosts the 2018 Bluewater Easter Egg Hunt, for children ages 2 – 16, at the Tennis Center, beginning at 9:30 a.m.

The Egg Hunt will feature goodies and photos with the Easter Bunny.

The Bluewater Tennis Center is located at 777 Bay Drive in Niceville.
The City of Valparaiso will hold its 2018 Easter Egg Hunt, for ages 0 -12 years, at Lincoln Park, beginning at 9 a.m.

There will be more than 2,500 plastic eggs containing candy, stickers, and toys. Also, free rides for kids on Valparaiso's little train, the "Valparaiso Express."

Lincoln Park is located on Bayshore Drive.
The City of Niceville will hold its 2018 Egg Dash, for children ages 0 -8 years, at the Niceville Recreation Complex, at 11 a.m. sharp.

Children collect colorful plastic eggs filled with candy and small toys. Some eggs will contain certificates redeemable for a larger prize.

The Niceville Recreation Complex is on Campbell Drive.