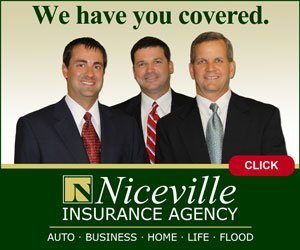 (The Taylor Haugen Foundation, Niceville FL) – The Taylor Haugen Foundation received a big surprise Tuesday morning.
Emerald Coast Association of Realtors Niceville Chapter and representatives of the many businesses who support them gathered to celebrate another successful year of partnerships at the TradeWinds Restaurant in Niceville.
Some very special and unsuspecting guests were asked to join them. The guests were the parents, Kathy and Brian Haugen, of Taylor Haugen, a former Niceville Football player who died after sustaining an injury on the field. The pair formed the Taylor Haugen Foundation in honor of their son and in an effort to keep other players from suffering the same fate. The Foundation provides EvoShield rib shirts or protective gear for secondary school students throughout the U.S.
The ECAR Niceville Chapter decided to make a $400 donation to help the foundation outfit students with the much needed safety gear.
"With this check, we can outfit at least 10 more kids," said Brian Haugen.
However, before he could even finish muttering the words hands began to rise around the room. With each hand raised the donation grew. First, Janice Busovne of Keller Williams Realty Emerald Coast added to the pot, then Jean Floyd of Keller Williams Realty Niceville, then Bobbie Jo and Bo Burns of Centennial
Bank Mortgage and last, but not least Terry Pilcher of Merrifield & Pilcher Realty.
"We went from $400 to $2500 in the blink of an eye," said Susan Rood ECAR Niceville Director.
As the total grew the amount of student athletes that could be outfitted swelled from 10 to an entire middle school team.
Busovne said after seeing a team outfitted in the gear recently it made her realize how important this equipment can be to the players wearing it.
"It gives these kids a level of confidence on the field and they understand because of this the tragedy that struck Taylor won't strike them," she added.