The Niceville business community is continuing to grow at a rapid pace with at least four new businesses reported to soon be opening. Unlike many of Niceville's newest businesses, none is related to dining.
A Sherwin-Williams paint store will be located in the Oak Creek Shopping Center, where CVS was formerly located.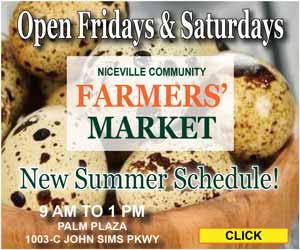 A local pharmacy will be opening in the former location of the Kmart garden department in the Oak Creek Shopping Center.
A florist, Bulaklak Katuray, will be located at 902 A Palm Boulevard (Next to Subway).
A used car dealer, Cooperative Auto Brokers, is located at 406 John Sims Parkway (Next to Bayou Pub).
Details to come.