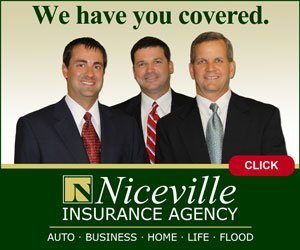 Both Niceville and Valparaiso have been recognized as being among the best suburbs in which to raise a family in Florida. The Web site Niche.com ranked both among the top 10 family-friendly suburbs in the Sunshine State in its 2015 Best Places rankings.
Niceville is ranked number three in the state, and Valparaiso is listed as number eight. The top-ranked suburb in Florida is Oviedo, located in Seminole County, Florida.
According to the Web site, Niche.com ranks suburbs based on age demographics, school ratings, crime rates, and access to affordable housing, child care, libraries, and grocery stores. A high ranking indicates that a suburb attracts young families with good schools and a safe community.
The details of Niceville's and Valparaiso's ranking are shown below:
Niceville:
Crime & Safety Grade:                   B
Education Grade:                           A-
Access to Libraries:                        B-
Community Involvement:                B+
Housing Grade:                              A-
Residents Age 35-44 Years:          12.6%
Residents Age 9 and under:           9.8%
Access to Daycare:                         B-
Access to Grocery Stores:              C+
Valparaiso:
Crime & Safety Grade:                   B
Education Grade:                           A-
Access to Libraries:                        C+
Community Involvement:                B+
Housing Grade:                              A-
Residents Age 35-44 Years:          8.1%
Residents Age 9 and under:          9.0%
Access to Daycare:                        B
Access to Grocery Stores:             C+