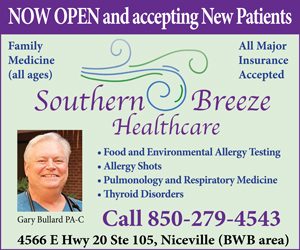 The Doolittle Institute in cooperation with Niceville High School held the second annual Florida Panhandle Robotics Kick-off on Saturday, October 18th.  This competition was designed by Doolittle Institute to challenge the students who are registered for First LEGO League competitions this season.
The "Undecided" Team from the Okaloosa STEMM Center placed first with 129 out 160 possible points.  Bob Sikes Elementary' s Rockin' Robots scored in 2nd place, with the STEMM Center's Explosive Circuits coming in 3rd place.  Prizes were provided by Doolittle Institute.
"The focus of the Kick-off is less on competition and more on helping teams become familiar with this year's tournament requirements," said Beth Hanning, Director of STEMM Education, Doolittle Institute.  "Though the event is based on the First LEGO League (FLL) competition, the categories make it easy for rookie teams to score points.  Teams can score up to 2 points in each category for up to 16 missions."
The categories include Mission Explanation, Analysis, Attempt, Success, and Return.  Engineering, a concept incorporated into the FLL theme, was also emphasized in the Kick-off.  The Mission Explanation component helps students understand each mission completely.  Mission Analysis requires students to identify and isolate problems and the respective solutions they have found with missions.  Teams also score points by programming their EV3 robot to autonomously navigate to missions (Mission Attempt), complete the mission (Success), and return to base (Return).
Several professionals in the area judged and helped with set up and break down of the competition, along with the Radioactive Roaches team from Niceville High School (NHS).
"Ben Shuman and his team have also committed many hours already this school year toward mentoring several elementary and middle school teams in Okaloosa County," said Hanning.
Davidson Middle School will hold the DMS Get Together on November 1st and a pre-qualifier tournament November 22nd to allow teams additional practice before the official qualifier at Davidson Middle School January 17th.
Pictured above:
The first place winners, the "Undecided" team from the Okaloosa STEMM Academy.  The "Undecided" team members (pictured left to right) are Jasmine Mishra, Natalie Cross, Mary Mason White, Chris Loffler, Robin Wynn, Olivia Hughes, Kaitlyn Ballard, Ben Baltz, and Indira Mishra. In back, Ben Shuman, robotics coach for Niceville High School.