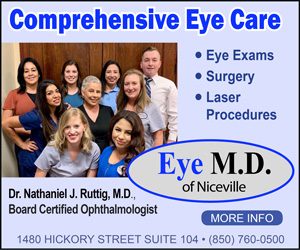 Join the Niceville-Valparaiso Chamber of Commerce and Northwest Florida State College for a night of family fun, entertainment and great local food!
The Chamber has partnered with NWF State College to present The Emerald Coast Blues Brothers on Thursday, October 9, 2014 from 7:00 p.m. – 9:00 p.m. at the amphitheater at the Mattie Kelly Arts Center in Niceville.Coastal Bank and Trust is the Signature Sponsor.
Tickets are $10 each for open seating and are available for purchase at the Chamber office or the Mattie Kelly Arts Center Box Office. Tickets for children ages 10 and under are $5 each. "Music By Moonlight" is open to the public.
"We wanted to offer an outdoor concert to the community for years and are excited to join the College for this venture," said Chamber President & CEO Tricia Brunson. "Our residents have asked for entertainment options closer to home for a long time."
One 20 A Modern Bistro and Hurricane Grill & Wings will be on-hand selling food throughout the concert. Concert-goers are welcome to bring picnics, lawn chairs and blankets to enjoy the concert from the amphitheater lawn. Amphitheater seats are available on a first-come, first-served basis.
Sponsorships are available for $250, and include a reserved table for eight, tickets and recognition at the event and in Chamber publications – please contact the Chamber for more details. This will be a great event for all ages!
For more information – contact the Chamber at 678-2323 or events@nicevillechamber.com.
Thank you for visiting our Web site! Please take a look at our Home Page for more local coverage of life in the Nicest Little City in the South.