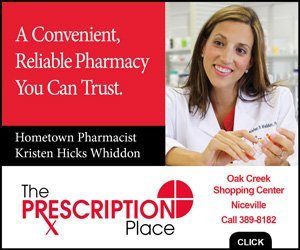 The Heritage Museum of Northwest Florida recently held a Volunteer Appreciation Party at Café Bienville in Niceville. Nearly 40 volunteers gathered to enjoy coffee, beignets, door prizes and recognition for giving of their time and talent serving our community through the Museum.  Among the guests were members of the Heritage Museum Assoc., Inc. Board of Trustees, Gift Shop volunteers, event, project, and research volunteers.
Volunteers are the heartbeat of the Museum, literally keeping history alive with their passion and dedication.  It was volunteers who started the Historical Society in a Valparaiso home around 1968. They began collecting items and in 1971 the museum opened in its current location, which was the original campus of now Northwest Florida State College, and the home of the Valparaiso State Bank building, which moved to John Sims Parkway and is now known as Coastal Bank & Trust.
For over 45 years the Museum's mission and purpose have remained the same; to preserve the past for future generations. Today, the Museum houses an extensive library archives and a vast collection of historic artifacts reflecting the culture of our ancestors who inhabited this area and the region of Northwest Florida.
The Museum presents the unique heritage of Northwest Florida through exhibits, tours, events and public programs. We serve our local educators by providing custom tours that meet state standards for public, private and home school students.  We teach heritage craft classes, host free history lectures, and assist researchers from around the world with answers from our library archives. This is all made possible with the help of volunteers.
We celebrate our heritage with free family-fun festivals each year, and other cultural events that showcase the Museum's historic collections. The staff of the Heritage Museum of Northwest Florida would like to thank the many individuals, groups and organizations who help us keep history alive in our community.  Thank you.
If you would like to learn more about the Heritage Museum of Northwest Florida and becoming a volunteer, please visit www.heritage-museum.org or stop in at 115 Westview Ave., Valparaiso.
Open Tuesday thru Saturday, 10 a.m.-4 p.m.