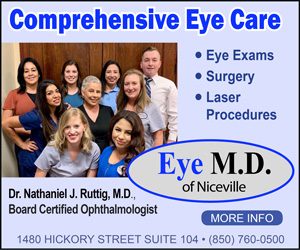 The 2016 Artist Series at the Mattie Kelly Arts Center at Northwest Florida State College in Niceville features some of the nation's finest professional dancers on Thursday, January 28 with MADCO DANCE – featuring the prestigious Modern American Dance Company (MADCO) in an evening of eclectic and exuberant dance.
The renowned Modern American Dance Company (MADCO) is the Professional Dance Company in Residence at the prestigious Blanche M. Touhill Performing Arts Center on the campus of University of Missouri, St. Louis. MADCO will also host a Masterclass for area dance students as part of their national tour.
The MADO company reaches over 30,000 people annually and is known for its high energy, athleticism, and entertaining style that leaves audiences wanted more. Under the Artistic Direction of Stacy West, MADCO has a commitment to collaborations and to commissioning work that makes an impact on artists, audiences and communities. The company collaborates with choreographers, musicians, visual artists, technicians, authors, professional athletes and many others in the development of new work that is uniquely MADCO.
Tickets for MADCO DANCE are $20 each with a special Group Discount for 10 or more tickets purchased together of $15 each. A Season Package discount (purchase of 6 or more of the 10 Broadway/Artist shows) offers a 10% discount off each show in the package ($18 for MADCO).
Contact the Box Office for Season Package and Single Ticket sales at (850) 729-6000. Purchase tickets online here.
The 2016 Broadway Series includes the national tours of Broadway musical mega hits "Annie" and "Joseph & the Amazing Technicolor Dreamcoat" along with a European opera company grande production of the Verdi's epic "Aida". The national touring Artist Series lineup in 2016 includes the direct-from-Las Vegas hit "MJ Live: A Tribute to Michael Jackson", "Live from Nashville", and the Modern American Dance Company.