There are a lot of factors a makeup artist must consider when applying theater makeup. It's much different than face painting trick-or-treaters.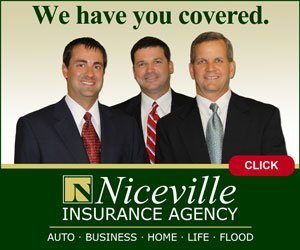 Halloween is a favorite time of the year for makeup artist Charles Killen, who with some grease paint, a sponge and a few brushes can transform a sweet young face into that of a vampire.
There are a lot of factors a makeup artist must consider when applying theater makeup. It's much different than face painting trick-or-treaters.
"Stage makeup must be seen from a distance," Killen said. "There are also different lighting effects on stage. Depending on the conditions, you may have to alter the color or the intensity of the grease paint for the stage. With (Halloween) face painting the only lighting consideration is a porch light."
For a Halloween treat, Killen agreed to apply his magic to the faces of Carson Childs, 5, and Jaden Childs, 3. Jaden was made up to resemble a kitten and Carson a vampire.
Killen used three brushes of varying sizes, sponges, grease paint and powder to create his Halloween fun.
"I've designed something very simple that most anyone can do at home," he said. "The biggest mistake people make face painting is trying to get too much detail. Less is more. When you try to do too much, colors run together or your design becomes confusing. Keep it simple."
The makeup artist has volunteered to paint faces at various charity events over the years. For those occasions, he uses an acrylic, water-based paint.
"If it is a small design on the face for a short time, I will use a water-based paint," Killen said. "It's easy to apply and you can just wash it off. But it's not something you would use for the stage. You would sweat the design right off under hot lights. If you are covering the entire face and you want to make it last for more than an hour or two, it's best to use grease paint."
Water-based paints, grease paint and the tools to apply them can be found in craft stores and holiday specialty shops.
"Unless you do a lot of theater, it's probably best to buy a Halloween face-painting makeup kit," Killen said. "There are a variety of different kits that cost as little as $5. You can find them almost anywhere at this time of the year.
"One can of grease paint for the theater runs about $7. And you will need different colors. So it's less expensive to buy a kit.
"I've seen kits for witches, Frankenstein and other characters. They come with all the tools and just the right amount of grease paint. And most will have simple instructions. They may also come with a few accessories (like a tail for a kitten or a teeth for a vampire)."
For those who aren't artistic, there are temporary tattoos and even stencils that can be purchased to create a facial design.
Here's how the vampire and kitten were created:
VAMPIRE
1. Begin with a plan, Killen said. And a plan can be as simple as picture.
Killen first applied a thin, base coat of white grease paint on the boy's entire face with a cosmetic sponge. The makeup artist advised using only paints approved for use on skin.
"I've never had anyone react to grease paint, but it's probably a good idea to try it first on the back of the hand to see if there is some kind of allergic reaction," he said.
2. A gray grease paint is applied with sponge and brush along the sides of Carson's face and around his eyes to create sunken cheekbones and hollow eyes.
3. With black grease paint, Killen paints a widow's peak – a V-shape point formed near the top of the forehead for the traditional vampire look.
4. A darker gray grease paint is applied under the eyes. This is followed by a blue grease paint to create a hollow appearance. Killen is especially careful working around the eyes.
5. Streaks of gray grease paint are applied on each side of the nose to accent the mouth and nose. He lightened it with white grease paint.
"If you are blending colors, blend light into dark," the makeup artist said.
6. Using black grease paint, Killen paints the lips using a small brush.
7. With red grease paint, he uses a brush to paint droplets of blood from the corner of Carson's mouth to the bottom of his chin.
8. With the face painted, Killen seals his work by dabbing powder on the face.
"Avoid using baby powder to set up the makeup," he advised. "It is designed to cake. Use a regular cosmetic face powder."
Killen added vampire teeth and a black cape.
After sitting for about 20 minutes, Carson leaped to his feet and ran to a full-length mirror, where he posed with a menacing look.
"Baby lotion – anything with an oil base – can be used to clean off the paint from the face," Killen said. "Cold cream and lots of tissues will work."
KITTEN
The kids' dad, Derek Childs, is also in theater and quite handy with makeup. He did Jaden's kitten face.
1. Childs first applied white grease paint around the nose, eyes and around the mouth.
2. Around the white paint, Childs applied a light orange to resemble fur.
3. A darker orange is applied in a circle around the outside of her face. With a sponge, Derek blended the white into the lighter orange and lighter orange into the darker orange.
4. With a brush and black grease paint, he formed the nose and mouth. Then he brushed whiskers on his daughter's face.
5. All around the outside of the face, he painted tiger stripes – an elongated triangle pointing inward.
6. He put makeup powder in his hand, gently blew it on his daughter's face and lightly brushed it out. This set up the paint.
7. He then added a tail and ears that were found at a party specialty store.