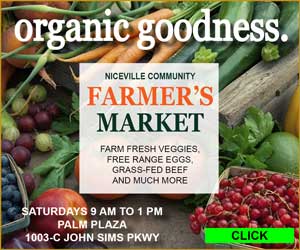 The Niceville High School Eaglette Dance Team invites the community to its Holiday Market on Nov. 10 from 4 p.m. to 8 p.m., at Dockside Café and Oyster Bar in Niceville.
The event will feature 28 vendors offering a great selection of unique Christmas gifts and holiday décor. There will be tasty heavy Hors d'oevres, and a number of exciting giveaways and raffle prizes, such as a pre-lit decorated Christmas tree, holiday wreaths, holiday center pieces, and more.
Tickets are $20 in advance and $25 at the door. To get your ticket, call Angel Reigelsperger at (585) 281-0405.
Dockside Café and Oyster Bar is located at 821 Bayshore Drive.
Prizes include:
– 2 Bedroom, 2 Night Condo Stay
– Decorated Christmas Tree
– Decorated Christmas Tree
– Several decorative Wreaths
– Free Enterprise Car Rental
– $25 gift card to Black Pearl Restaurant
– $25 gift card to Floyd's Restaurant
– $25 gift card to Rockin Taco Restaurant
– $25 gift card to Crab Trap Restaurant
– 4 Rounds of Golf at Blackstone Golf Course each round comes with a free golf cart rental
– 2 NHS Tervis Tumblers
– 2 Longsleeve NHS tshirts
– Gift package of Paul Mitchell products from C'est La Vie Salon
– Spray Tan package
– Microdermabrasion gift card
– Pure Barre (3 free classes) gift card
– Beef Jerkey Basket from the Beef Jerky Outlet
– Williams and Sonoma Frosty the Snowman Baking Dish
– Christmas Votive Set
– Snowman coffee mugs
– Jewelry Giveaway
– Skincare Giveaway from Destin Plastic Surgery Center