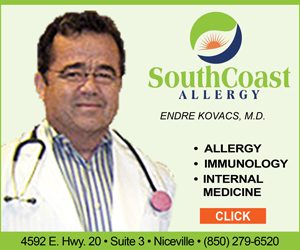 The recent signing of a lease agreement with Northwest Florida State College marks another step in the Emerald Coast Autism Center's (ECAC) journey to provide quality care and education to children with autism in Northwest Florida.
Since opening its doors in 2009, ECAC has outgrown every facility it has operated from and its current location in Valparaiso is no different.
"We would like to welcome the Emerald Coast Autism Center to our campus," said Dr. Ty J. Handy, president of NWF State College. "The ECAC mission is closely aligned with the mission of NWF – which is to improve the lives of families and students in the communities of Northwest Florida – and because of this we know that it will be a great educational partnership for many years to come."
The lease agreement between NWF State College and ECAC will provide land on the college's main campus in Niceville for construction of the new 15,225-square-foot facility. The lease payment will be a total of $1 each year. Ground-breaking for the new facility will take place in September.
"We are thrilled to have the opportunity to partner with NWF State College," said Staci Berryman, BCBA, and Executive Director of ECAC. "This is the best possible long-term solution for the permanent home of ECAC, and will enable us to provide the highest quality services to the most children with autism in our community."
This new facility will provide an increased number of classrooms that will allow ECAC to accommodate more students with its predominantly one-to-one student-to-teacher ratio. In addition to classrooms, the new facility will have a large multi-purpose room, a climate-controlled indoor playground, an outdoor playground, speech and occupational therapy rooms, a conference room and a computer lab. For vocational students, the new ECAC will also have a Life Skills room for students to practice independent living skills. Academically, ECAC serves students from pre-k through second grade.
ECAC is in the midst of a Capital Campaign to raise funds to build the approximately $2.5 million facility. For over a year, ECAC has been raising funds through a combination of grants, individual donations and local events.
"Our goal is to help more children with autism and ensure we have enough space for the long-term sustainability of our student population," added Heidi Blalock, CFA, CEO and Treasurer. "Our partnership with the college will help us achieve this goal, and for this we are so grateful."
For more information on ECAC or how to give to the Capital Campaign, please contact the center at 850-279-3000 or visit ECAC's website.
PHOTO (above): Dr. Ty Handy, president of NWF State College, looks on as Emerald Coast Autism Center Co-Founder and Executive Director Staci Berryman (center) and ECAC Co-Founder and CFO/Treasurer Heidi Blalock (right) sign a land lease agreement for their new facility to be built on the college's main campus in Niceville. Berryman and Blalock presented Handy with a check for $40, adding that they are "paid in full for at least the next 40 years."