Locally owned and operated, Café Liquid is a mainstay among Niceville coffee purveyors, serving the community for 10 years or more under several local owners.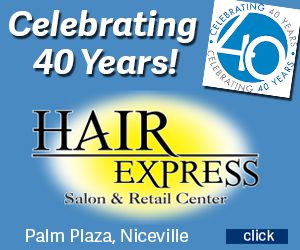 Café Liquid, a popular Niceville coffee restaurant that closed temporarily in recent months, is once again open for business and back to its regular business hours. Locally owned and operated, the cafe is a mainstay among Niceville coffee purveyors, serving the community for 10 years or more under several local owners.
The cozy coffee, breakfast and brunch restaurant located on John Sims Parkway next to Sears, was most recently operated by Candice Bellino, who took over operations in April 2014. Her passing this past May led to the temporary closing of the restaurant, explained Mike Bellino, her former husband.
Mike said Candice's parents, Tom and Jill Tarver, have assumed ownership of the café. The last of the paperwork, permits, and inspections associated with the ownership change were completed last week.
His in-laws decided to keep the café in the family as a tribute to Candice, and for Mike and Candice's two children, Diego, 13, and Violet, 9.
"They want this to be her legacy that she passes on to them," said Mike.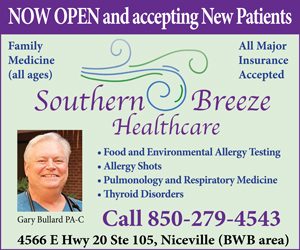 Café Liquid has a loyal following of customers, many of whom have voiced their support on the
Niceville.com Facebook page
for the locally owned coffee house over the franchises that have recently come to town.
Mike figures the popularity and support Café Liquid receives comes largely from its locally-sourced coffees and teas, friendly employees, relaxed atmosphere and its support for local causes in the community.
He said supporting the community was hugely important to Candice.
"Without the support of the community this place would not exist," said Mike "It's important to us, as it was to Candice, to let the community know we're here to support them."
In addition to sponsoring local causes, the coffee house offers a discount on beverages to veterans, active duty members of the military, teachers, first responders, and nurses. On the morning of our interview, they delivered free coffee to Niceville firefighters.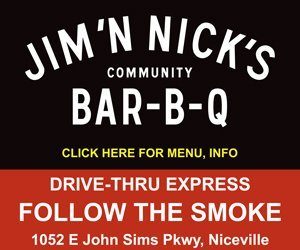 "We're a community place," said Mike. "We know them. They know us."
The coffee served by Café Liquid is custom roasted for them by Maas Coffee Roasters in Fort Walton Beach. It has developed a committed fan base.
"My son's been going to EOD school, and he's leaving to go to jump school tomorrow, so I'm here to get him his last good cup of coffee," said Carla Rowley, who offered the unsolicited comment when she observed our Niceville.com interview at the café.
While she was there, Carla said she was excited to discover its coffee beans are available by the half pound, whole bean or ground, to send to her son.
"There are a lot of former Niceville High School students that are now in college who have their parents ship our coffee to them at school," said Mike.
The menu at Café Liquid includes coffee and blended coffee drinks, iced coffee, cold brew coffee, locally crafted teas, breakfast and lunch sandwiches, pastries and more. The coffee house features indoor table and counter seating and a drive-thru.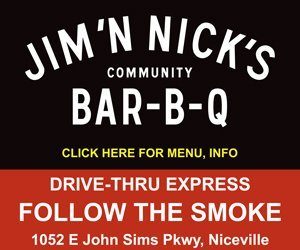 Café Liquid is open Monday-Friday, 5:30 a.m. to 4 p.m., and Saturdays from 7 a.m. to 2 p.m., at 772 John Sims Pkwy E. The phone number is 842-4460.
PHOTO (top, left to right): Alex Aquire, Mike Bellino, Jorene (JoJo) Powell (manager), and Steven (Estaban) Cornelius.