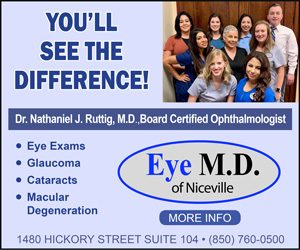 Bay scallop season will open for harvest in the St. Joseph Bay area Aug. 22 and will remain open through Sept. 5, 2016 (Labor Day), closing to scallop harvest Sept. 6. During this shortened season, the daily bag limit will be 40 scallops per person or 200 per vessel, whichever is less. This season and bag limit change is for all waters west of St. Vincent Island through to the west bank of Mexico Beach Canal in Bay County. Also, restoration efforts are underway in the southeast area of the bay south of Black's Island. Swimming, boating, fishing or scalloping in the restoration area marked with FWC buoys is prohibited.
Regulations and open season dates remain unchanged in all other open bay scallop harvesting areas.
Ongoing research and monitoring results indicate bay scallops in Gulf County were negatively impacted during a 2015 red tide event in the area. There has not been any red tide observed in the bay since January 2016, and areas east of Gulf County do not appear to have been impacted.
The FWC has been working closely with Gulf County in a coordinated and cooperative effort to minimize negative impacts associated with potential low scallop numbers this summer. FWC staff hosted three public meetings in Port St. Joe to share information and to gather public input on bay scallops in the area. The decision to open a shortened season with a lower bag limit was made at the June 2016 Commission meeting in nearby Eastpoint. The FWC will continue monitoring and conducting restoration efforts in the bay.
Scallops may be collected by hand or with a landing or dip net from open areas, and must be landed within the area that is open to harvest.
There is no commercial harvest allowed for bay scallops in Florida.
Be safe when diving or snorkeling for scallops. Stay within 300 feet of a properly displayed divers-down warning device (flag, buoy, etc.) when scalloping in open water and within 100 feet of a properly displayed divers-down warning device if on a river, inlet or navigation channel. Boat operators traveling within 300 feet of a divers-down warning device in open water or 100 feet of one on a river, inlet or navigational channel must slow to idle speed. Learn more about divers down warning devices at MyFWC.com/Boating by clicking on "Regulations."
Help FWC's scallop researchers by completing an online survey at http://svy.mk/bayscallops.Harvesters can indicate where they harvest scallops, how many they collect and how long it takes to harvest them. Participants can email BayScallops@MyFWC.com to ask questions or send additional information.
Learn more about long-term trends in the open and closed scalloping areas by visiting MyFWC.com/Research and clicking on "Saltwater," "Molluscs," "Bay Scallops" and "Bay Scallop Season and Abundance Survey."
For more information, visit MyFWC.com/Fishing and click on "Saltwater," "Recreational Regulations" and "Bay Scallops."