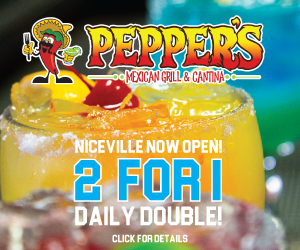 For one 96th Test Wing Airman at Eglin Air Force Base, the wild blue yonder isn't up and overhead, but below and in front of his gaze as he stands on the starting block waiting for his signal.  Upon the alert, he blasts off and pierces his calm blue horizon to begin a competitive swim.
Senior Airman Francisco Perez Castillo, a 96th Maintenance Group administrator, has been swimming since age 4.  He joined his first swim team only a year after that.
Approximately 20 years later, Perez Castillo was inducted into his university's sports hall of fame for his swimming accomplishments in December 2015.
"It is a real honor and I am blessed that God gave me the talent to be successful in the sport I've loved and trained in so long," he said.
Perez Castillo grew up in Ponce, Puerto Rico, where he began swimming in his hometown YMCA with his older brother, Jose.  He and his brother grew into the sport quickly and began training to compete.
"Growing up and getting better, we got more into the sport," said Perez Castillo.  "The time we spent in the water increased as did the distances we swam."
Only two years after joining a swim team, he reached a national swimming event.
"It didn't go well, but it gave me the experience and desire to get better and come back the next year to win," Perez Castillo said.
He did return earning a silver medal when he was nine.
"With that medal, I realized I had an opportunity to succeed in the sport," said the five-foot-nine-inch Airman.  "After my first medal I wanted more, so I started to train more."
The training paid off.  Perez Castillo made the Puerto Rican National Team at age 12 and was selected for the next 11 years in a row.
"I was blessed to have that amazing opportunity to represent the country," he said of the feat that took him to competitions all over Central and South America and to the U.S.
Through those competitions, Perez Castillo racked up the medals and even broke a few records in his preferred swimming technique, the breaststroke.  He said he knew by age 13 the breaststroke was his strongest technique and if he focused on it, he could reach the top levels.  He was right.
Because of his abilities, he was selected for specialized sports high school where he trained before and after his daily classes and eventually earned a full scholarship to Pontifical Catholic University of Puerto Rico.  Both he and his brother, who continued to swim and train together as they grew up, were part of the university's swim team.
There, his focus was the 50, 100 and 200-meter breaststroke and the team relay events where he broke records and earned more than 30 medals.  He was also selected as team captain.
"I believe breaststroke swimmers are born not made.  It takes a kind of physicality few people have," said Ralph Ramirez, his university swimming coach.  "What made him excel at it was the amount of dedication and training he put in."
According to Ramirez, Perez Castillo didn't need much coaching, but the coach provided him help with staying focused and concentrating his goals.
Throughout his swimming career, his training was extensive.  During his high school and college years, he could be in the pool three to five hours per day, six days a week.
That effort and dedication to swimming was recognized when both he and his brother, Jose, were both inducted in their university's sports hall of fame.
Perez Castillo left Puerto Rico for the Air Force in 2013, but he did not leave swimming.  He kept up his swim regime through training and here at his first duty station.
As an airman 1st class, he was selected for the 2014 Air Force Swim Team.  He was the only enlisted member on the team.  At the annual competition in Germany, he earned a second place in the 200 breaststroke and a first place in the team relay event.  With his help, the team won that year's competition for the first time in 10 years.
"It was stressful at first," said Perez Castillo, about being such a young and new Airman on a team of officers. "I didn't know what to expect, but they actually made it more informal, so we could be a team.  That made it easier.   It was just like being back in college again."
Even though he doesn't compete regularly, he can't give up that fitness routine he's had for three-fourths of his life.  It's now part of him.
He slowed down a bit to three to four days a week for an hour and a half.  He still completes breaststroke laps and swims at a competitive pace.
More than two and a half years into his enlistment, Perez Castillo compared his military life to that of a student athlete.
"As a student, you have to balance your school and athletic responsibilities to be successful at both ends," he said.  "In the Air Force, you are responsible for so many things from training, school, fitness and its being able to balance each one that allows us to accomplish the mission."
Although Perez Castillo's Air Force future is yet to be determined, one of his long-term goals is certain.  He hopes to get more involved in coaching the sport he's devoted so much of his life to.
"I used to give swimming techniques and lessons to kids growing into the sport," said Perez Castillo.  "I really loved giving back what I was taught. I wanted to help them be successful not only as athletes, but in their lives as well.  I would like to be able to do that again someday."
Article by Samuel King Jr.
Team Eglin Public Affairs
Photo: Senior Airman Francisco Perez Castillo, 96th Maintenance Group, comes up for air while swimming the breaststroke March 22 at Eglin Air Force Base, Fla. The 26-year-old Airman was recently inducted into the Pontifical Catholic University of Puerto Rico Sports Hall of Fame. (U.S. Air Force photo/Samuel King Jr.)