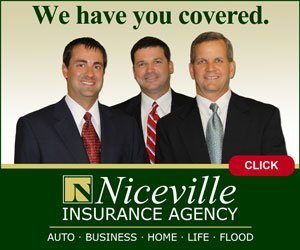 The 2017 Invasion on the Bayou, a family event to promote water safety — and reading literacy for children — will be held on Saturday, March 25, beginning at 10 a.m., at the Bluewater Bay Marina Complex.
NOTE; This event has been rescheduled for April 15.
The annual event, sponsored by Niceville Valparaiso Rotary Club, Bluewater Bay Marina and Paradise Paddle Boards, features a group "invasion" gathering and photo, SUP (stand up paddleboard) race, Josh the Baby Otter storytime for preschoolers, and US Coast Guard Auxiliary presentation and boat inspections. The event was originally schedule to take place in March but was rescheduled due to inclement weather.
Boaters, sailors, canoers, kayakers, SUPs, jet skis and seaplanes are invited to anchor and float on the west side of the Rocky Bayou Bridge for a group photo to be taken at 10:30 a.m. (staging begins at 10 a.m.).
The Stand-Up Paddle Board race begins at 10:45 a.m. The course is Rocky Bridge to Rocky Creek, and back to Tater Tot Island. The suggested registration/donation for racers is $25. Money raised from the project buys the book, Josh the Baby Otter, which is distributed to children at local preschools.
Storytime for preschoolers begins at 12 noon., and will feature the book, "Josh the Baby Otter." All preschoolers in attendance will receive a free copy of the book.
The United States Coast Guard Auxiliary will be available at the Bluewater Bay Marina and boat ramp from 11 a.m. to 3 p.m. to do safety inspections on your vessel to get you safe on the water. A US Coast Guard Auxiliary presentation begins at 12:15 p.m.
For more information please call Bluewater Bay Marina at (850) 897-2821. Click here for an entry form.
If you are interested in more information on Rotary, please email: nicevalrotary@yahoo.com. The Niceville

Valparaiso Rotary Club regularly meets in the Student Services Building at The Northwest Florida State College every Thursday at Noon.