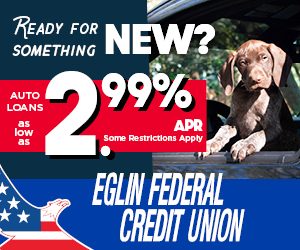 The 2014 Niceville Christmas display by the Christmas Lady, Animation in Motion, will be held Nov 28, 2014 – Dec 27, 2014, 6 p.m. to 9 p.m. each night (seven nights a week), in the former K-Mart location in the Oak Creek Shopping Center located at 1104 E John Sims Pkwy .
The display features more than 600 animated dolls in themed scenes, a Christmas Village with more than 1,000 pieces, electric trains (N-Scale, H.O. Scale, O-Scale, and G-Scale Model Trains), decorated trees and much more.
Admission is free.
• Write Happy Birthday Messages for Baby Jesus;
• Send a message to a deployed soldier;
• Write a Christmas card to a recovering soldier at Walter Reed VA Hospital in Washington D.C.;
• Nightly Christmas Movies
• Snacks available
Santa will visit on December 24.
Debbie Lewis, Niceville's "Christmas Lady," and her husband Kevin Payne, hold the Christmas display to share with the community. This is the display's 19th year.
For more info visit the website at www.thenicevillechristmaslady.com