WALTON COUNTY, Fla. – A pair of Walton County teenagers are facing felony charges following an alleged crime spree that reportedly included stealing guns and breaking into multiple churches in northern Walton County, the Walton County Sheriff's Office has reported.

According to the Walton County Sheriff's Office (WCSO), Teague Kirkland, 19, and a 16-year-old male companion were found walking on I-10 near a stolen Ford F-150 around 2 a.m. on Wednesday. The WCSO said the vehicle was stolen Tuesday from a home on State Highway 83 in Glendale, along with numerous firearms, prescription medication, and alcohol.
"Because of the proximity to the address of the stolen truck to other crimes and information from community members, the teens were developed as suspects in multiple incidents, including two churches and a store," the WCSO said.
The WCSO said its investigators believe the teenagers are responsible for at least five burglaries and thefts that reportedly occurred between January 1 and 3, including one where musical equipment was allegedly taken from a church and an Xbox and speaker from a camper.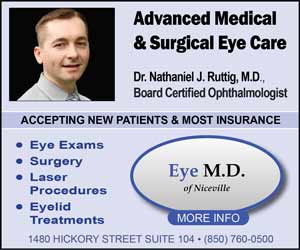 Both also are alleged to have made entry into a store stealing change and candy, the WCSO said.
Kirkland and the 16-year-old are charged with multiple felony counts of burglary, grand theft auto, grand theft less than $10,000 but more than $5,000, and criminal mischief.
Kirkland was booked into the Walton County Jail, and the juvenile was booked into the Walton County Jail and then transported to the Department of Juvenile Justice in Crestview.