FLORIDA —
Q. I would like to plant St. Augustinegrass seed, but I can't find the seed at local garden supply stores. Are they available?
No, St. Augustinegrass seeds are not available. The reason why we do not have St. Augustinegrass seed on the market is because this grass species does not reliably reproduce from seed.
The viability of the seeds is extremely low. The germination rate is very low, and the few seedlings that might germinate would, more than likely, not survive because of seedling diseases.
Even if you did have success and some of the seeds germinated and survived, there would be much seedling variation. In other words, it would not be acceptable because the grass produced from seeds would not be uniform.
Some of the seedlings would have narrow or wider blades, some would be darker or lighter in color, some would be faster or slower in growth rate, etc.
A number of years ago, I did some work with a St. Augustinegrass seed that was on the market for a short period of time through Pennington Seed Company.
For two separate years, we planted the seeds at the Okaloosa Applied Technology Center in Fort Walton Beach with the help of the now retired horticulture instructor and the horticulture students. We planted some of the seeds outside in the ground and some inside their greenhouse in flats.
The very best we got was around 40 percent germination, which was not too bad. But one hundred percent of the seedlings were quickly killed by diseases such as gray leaf spot.
If you talk to any turfgrass researcher in the Southeast who has worked with St. Augustinegrass, they will tell you essentially the same thing.
To establish St. Augustinegrass, you'll have to sod, plug or sprig the grass.
Sodding is the quickest method of establishing a lawn. Even though sodding can be done anytime during the year here in North Florida, it's best to avoid the extremely hot summer months and the colder winter months.
The best window of opportunity to establish a lawn in our part of Florida is from April through June. At that time, the soil is adequately warm for faster rooting of the new grass, and the new lawn has the remainder of spring and summer to become well established before the cold weather of winter arrives.
There are many cultivars of St. Augustinegrass from which to choose. Each cultivar has advantages and disadvantages.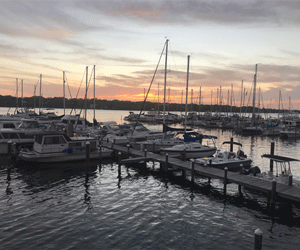 It's wise to take a look at and choose the best fit for your landscape.
The below link to a UF/IFAS Extension publication on St. Augustinegrass for Florida provides more information.
https://edis.ifas.ufl.edu/publication/LH010
Larry Williams is the Extension horticulture agent with the Okaloosa County Cooperative Extension Service, University of Florida. Contact Larry at 689-5850 or email lwilliams@myokaloosa.com.