OKALOOSA COUNTY, Fla. – Nearly $8 million in state funding is included in the 2022-2023 state budget for six projects proposed by the Okaloosa County Board of County Commissioners, including $1.5 million for a multi-use pathway along College Boulevard in Niceville, according to an announcement by the board.

Governor Ron DeSantis signed the roughly $112 billion State Fiscal Year 2022-2023 Budget on June 2.
According to the Board of County Commissioners, approved projects include:
$750,000 for Overbrook area stormwater improvements
$300,000 for Cinco Bayou Glenwood Park water quality improvement
$2 million for US 98 Bridge-to- Bridge multi-use path from West Okaloosa Island to Destin
$3 million for County Road 2 road safety and upgrades to Big Horse Creek and Yellow River bridges
$1.5 million for Niceville College Boulevard multi-use pathway
$350,000 for the continued support of the Pretrial Mental Health Diversion Program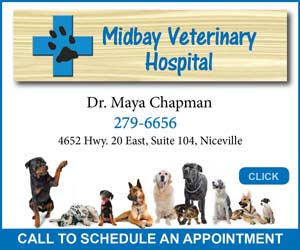 DeSantis vetoed two other county projects. DeSantis vetoed $1.5 million for a Florosa water storage tank and $1 million in funding for US 90 at Jericho road improvements within the Shoal River Ranch Gigasite, the board said.