MARY ESTHER, Fla. – A man from Mary Esther is facing several charges after he allegedly drove through a yard and smashed a mailbox while trying to avoid deputies who were attempting to conduct a traffic stop, said the Okaloosa County Sheriff's Office (OCSO).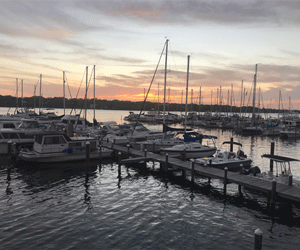 Vernon Gamble III, 54, was apprehended on suspicion of driving under the influence, fleeing and evading, aggravated assault on an officer, driving while suspended, obstructing the course of justice, and making criminal mischief.
According to the OCSO, around 9 p.m. on September 10, an OCSO sergeant observed Gamble driving erratically and violating multiple traffic laws, including traveling on the wrong side of the road and in the opposing lane on two occasions.
The sergeant attempted a traffic stop. However, Gamble reportedly failed to stop for the lights and sirens and tried to hit a marked police vehicle driven by a deputy with his truck.
The OCSO said Gamble purposely drove into a yard on Shrewsbury Road, colliding with a mailbox and other objects, causing property damage.
When the pursuit ended, Gamble reportedly exited his vehicle and initially refused commands by deputies.
Gamble's license has been revoked in Alabama since 2018 due to a past DUI, said the OCSO.