NICEVILLE, Fla. – The Niceville Valparaiso Rotary Club has announced the winners of the 2021 Niceville Valparaiso Community Christmas Parade held on December 4.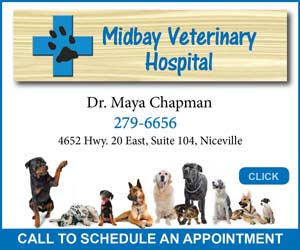 Holt-Phills Services won the special Grand Marshal's Choice award and Twin Cities Hospital received the special President's Choice award.
Niceville Flag Football won the non-profit youth division and Costa Enterprises McDonald's took first place in the commercial division.
An awards ceremony was held on December 6.

The winners are listed below.
2021 NICEVILLE CHRISTMAS PARADE WINNERS
SPECIAL AWARDS
Grand Marshal's Choice: Holt-Phills Services
President's Choice: Twin Cities Hospital
COMMERCIAL
1st Place: Costa Enterprises McDonald's
2nd Place: Berkshire Hathaway PenFed Realty
3rd Place: Legendary Boating Club

CLUB/NON-PROFIT ADULT
1st Place: Niceville Church of Jesus Christ of Latter-Day Saints
2nd Place: Niceville Christian Church
3rd Place: Crosspoint Church
NON-PROFIT YOUTH
1st Place: Niceville Flag Football
2nd Place: Niceville High School Robotics Team
3rd Place: Girl Scout Troop 2067
MARCHING & PERFORMING UNITS
1ST Place: Twinkling Twirlers