Once the offices of Gulf Power in Niceville, the building which most recently was Fresh Greece Pizza & Grill, has been torn down and cleared.
The building that recently was home to Fresh Greece Pizza & Grill — and back in the day, Gulf Power –was little more than a pile of rubble by 9 a.m. Thursday. The property is being prepared for the expansion of the adjacent North Light Marina and Emerald Coast Marine Center.
Niceville's Karen Phelps watched as the debris from the building her father built was loaded into a truck for removal. By her recollection, her dad, the late Leonard "Buddy" Phelps, built the structure sometime around 50-60 years back.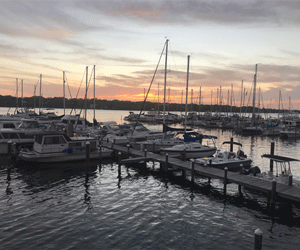 "It was Gulf Power back then. It's used to be where everyone in town paid their power bills," said Ms. Phelps. "I remember the building as a child. Lots of fond memories."

Her father built boats on the marina site, and her mother operated the Parkway drive-in restaurant on the property.
On Thursday morning, Karen was hoping to find the mail slot panel from the front of the building.
"I already have a brick from the building. It means so much to me."
The property will be used for a boat showroom and additional parking for Emerald Coast Marine Center. It is at 111 W. John Sims Parkway, across from the State Road 85 North intersection, formerly known as the Niceville Triangle.