NICEVILLE, Fla. — The Niceville Bazaar, a gigantic pre-Christmas shopping event with over 130 vendors, is Saturday at the Mullet Festival grounds in Niceville.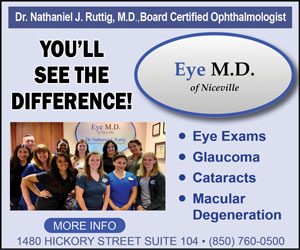 Formerly known as the World Bazaar or Holiday Bazaar, the 2022 Niceville Bazaar is open to holiday shoppers from 9 a.m. to 2 p.m.
There is no charge for admission or parking.
Shoppers from throughout Northwest Florida look forward to this much-loved annual holiday market.

The 130 or more vendors will offer a vast assortment of unique holiday gifts, crafts, and Christmas décor in a delightful setting with plenty of convenient parking.
Enjoy music and tasty delights from the 10 food trucks that will be on-site.
Don't miss the massive silent auction – so much to bid on!

Look for jewelry, t-shirts, wreaths, cards, candles, clothes, ornaments, art, quilts, signs, holiday decor, stuffed animals, handmade soaps, fishing tools, tumblers, baby accessories, table arrangements, knives, aprons, and so much more.
Hosted by Freedom Life Compass, the bazaar benefits the organization's missions, such as Freedom House, a transitional housing program for single women, organizers said.
The Mullet Festival grounds is at 598 State Road 85 North in Niceville (State Road 85 North at College Boulevard).