MIRAMAR BEACH, Fla. – A Miramar Beach man and Gulf War veteran has chronicled the service of his granddad during World War I in a recently published book.
"The Great War Through a Doughboy's Eyes" recounts the service of Corporal Howard P. Claypoole, told through the lens of his grandson and Miramar Beach local, Gregory S. Valloch.
"This is the story of one man who fought in the Great War, came home, got married, and had a successful life," Valloch said.
"But he also found friendship and life lessons forged in battle that stayed with him until the very end. And that is what I want to relate."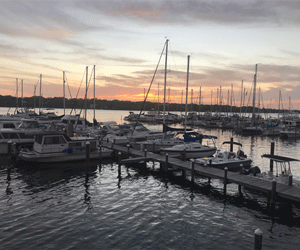 Corporal Howard P. Claypoole served in the U.S. Army during WWI and was awarded The Purple Heart posthumously. Like his grandfather, Colonel Gregory S. Valloch also served in the military and is a U.S. Army veteran who honorably served during the Gulf War.
Since then, Valloch has become a Destin local. In 2016, he opened a Ben & Jerry's ice cream shop in Miramar Beach, which he still owns and operates in the Market Shops.
Valloch credits his grandfather's bravery and conviction as the source of his motivation to earn a commission in the Army. When Valloch came across his grandfather's wartime diaries, correspondence, and artifacts, he saw that it was only fitting he share his grandfather's legacy with the world.
In "The Great War Through a Doughboy's Eyes," Valloch offers a unique account of his grandfather's service during WWI, illustrating the hardships of soldiers at war. Utilizing his grandfather's diary entries, postcards, letters, wound order, newspaper clippings, military history, and discharge papers, Valloch tells the story of a man with an unwavering allegiance to his country and a will to survive.
Corporal Claypoole's journey is brought to life through photographs of wartime memorabilia, including playing cards, pictures, dice, dog tags, medals, bayonets, coins, and his rifle sling covered with unit crests, his Purple Heart, and his WWI Victory Medal and campaign clasps.
"The Great War Through a Doughboy's Eyes" is available for purchase online at Amazon.com.