NICEVILLE, Fla. — Zepfest, a concert featuring a Led Zeppelin tribute band, is coming to the Mattie Kelly Art Center in Niceville on September 30.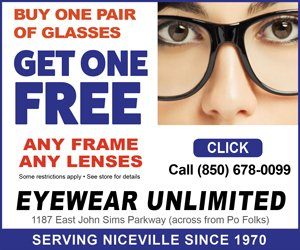 Presented by 100.3 KROCK and Hempel Promotions, ZEP-LA is headlining the event with performances by local bands Thin Ice and Lovves & Hell, according to an announcement by KROCK.
Showtime is at 7 p.m. Tickets are available at krockfwb.com or the Mattie Kelly box office, starting at $29.95. A VIP ticket that includes seating and a catered meet and greet is available for $49.95.
Part of the proceeds will benefit Fisher House of The Emerald Coast, KROCK said.
September is Zeptember on 100.3 KROCK. Since the first of the month, the local radio station has been featuring the words, music, and magic of Led Zeppelin. Zeptember culminates on Sept. 30 with Zepfest.
"The influence of Led Zeppelin on so many generations of musicians is undeniable," said Rik Wolfe, Program Director of 100.3 KROCK.
On the air, Zeptember is highlighting not only the Led Zeppelin songs people are familiar with but also its hidden gems and exclusive interviews with the band.

On Sept. 10, 100.3 KROCK will offer a free showing of Led Zeppelin's "How the West Was Won" at Suds & Cinema in downtown Fort Walton Beach.
On Sept. 24, a showing of "Song Remains the Same" will be held at the cinema. The first 100 attendees are admitted free, KROCK said.
"The depth of our music library is beyond compare. And who doesn't like a free movie at the beautiful Suds & Cinema?" said Schuylar Black, Sales Manager, Omni Broadcasting.
For more information, visit krockfwb.com.